Big Room Tunes 2011 – Out Now – Mixed by Love Assassins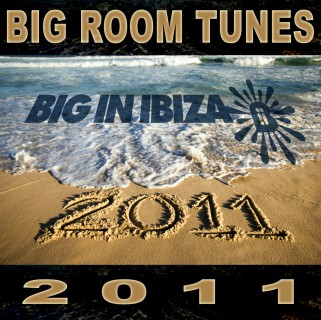 Download from: iTunes, Beatport, TrackItDown, Juno, DJ Download, AudioJelly, DJ Tunes.
Big In Ibiza's annual Big Room Tunes album series returns for 2011 to kickstart the year on a high with some of the hottest club anthems of the past 6 months combined with exclusive upfront new material and the biggest current dancefloor shakers. 24 massive records mixed by Love Assassins across 2 DJ Mixes.
Uniquely for this year's instalment the album features tracks from Discopolis run by Hed Kandi A&R Man / DJ Carl Hanaghan, Loverush Digital run by Power Promotions' Mark Loverush, South Africa's leading dance label F! Records (part of Soul Candi), Mena Music run by Fonzerelli aka Aaron McClelland and one of Canada's finest Hi-Bias Recordings.
Released every year since 2007 Big Room Tunes has become a firm favourite with most hitting the iTunes Dance Album Chart Top 10 and consistently being one of our best selling projects of the year. This is gonna be a hot one! So watch out!
TRACKLIST
DJ Mix 1
1) Dr Dapper ft Syra 'Don't Need A Man – Club Edit'
2) Javah ft Stacey McClean 'You And Me – Big In Ibiza Remix'
3) Digital Glitter 'Without You – Fonzerelli Top Gun Edit'
4) Stockholm Disco ft Kaysee 'Forever – Carl Hanaghan & Ted Nilsson Remix'
5) Carl Hanaghan & Ted Nilsson 'Wear It Out – Club Mix'
6) Nick Fiorucci ft Selena Gittens 'I Can Give – Dennis Christopher Big Room Edit'
7) The Shrink Reloaded ft MC Pryme 'Nervous Breakdown 2010 – Timothy Allan Vocal Mix'
8) Jacques vs Block & Crown 'Do For Love 2010 – B&C Galveston Bay Remix'
9) Robson Vidal & Blond:ish ft. Coco Hayek 'Miss You – Criss Wave Edit'
10) Nick Fiorucci feat. Carl Henry 'You Belong To Me – Criss Wave Edit'
11) The Str8jackets ft MC Chickaboo 'Move & Rock – The Asylum Rub'
12) Nathan C & Danny Dove 'Something Goin' On – Ugo Platana & Alex Miles Remix'
DJ Mix 2
1) Bailey ft Jodie Connor 'Higher State – Original Mix'
2) LoverushUK! ft Shelly Harland 'Different World 2010 – Loverush UK! Club Mix'
3) Damien S ft Lee Thomas 'Long Lost Summer Love – LoverushUK! Club Mix'
4) Zaa feat. Molly Bancroft 'Surrender – Original Mix'
5) Love Assassins 'Teardrops – Chris Sen Remix'
6) Adam K & Addy 'Late Night – Original Edit'
7) Jonathan Ulysses & Reza 'Baila – Original Mix'
8) Elektrogroove 'Got To Be Big – David Jones Vocal Dub'
9) Cut & Splice 'Spend The Night – Original Mix'
10) Anton Neumark ft Edge 'Power Of Fire – Big In Ibiza Mix'
11) Cut & Splice 'Old Skool Nu Skool Vol.3'
12) Melodia 'Is It Friday Yet? – Big In Ibiza Remix'
Related Posts