Future:Dubstep:01 Mixed by Hatcha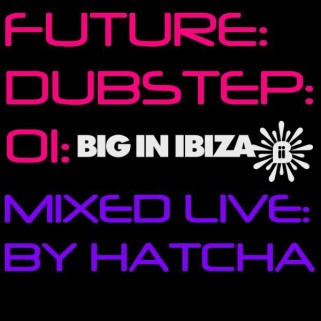 Back in 2007, UMM (The predecessor to Big In Ibiza) teamed up with Dubstep label Eight:FX to present the first ever iTunes Dubstep mix compilation, Dubstep Sessions. Mixed by Kiss 100's DJ Hatcha, it presented Dubstep's biggest anthems of the time. Now, for 2009 they team up again to present the first in their new Dubstep series, Future:Dubstep:01. Once again mixed by Eight:FX favourite and Dubstep legend Hatcha, and once again full to the brim of Dubstep anthems.
"Dubstep is a sound that will literally stop you in your tracks, it's so powerful and elemental." Mary Anne Hobbs, BBC Radio 1
"The latest development in British dance music… ready to conquer the world" Gervase De Wilde, The Daily Telegraph
Dubstep has been the buzz word for a few years now, but through 2008 and the early part of 2009 the genre has really begun to showcase itself all over the world. Since it's early origins of small dark London venues and home studios, Dubstep is now one of the world's freshest genres, with DJs and producers in demand from the clubs of New York to the streets of Sao Paolo. Through leading London nights, FWD>> and DMZ, pirate station Rinse FM and small record stores, such as Big Apple Records, Dubstep's broken beats have gone on to shock crowds all over the world.
A founder of the Dubstep sound, the scenes first DJ and one of it's most legendary figures, DJ Hatcha showcases the freshest, toughest, forward thinking Dubstep anthems. The first in this compilation series is a look into where Dubstep is at and where it's heading.
Having accumulated over 10 years DJing experience through his early sets at UK Garage events, alongside the likes of Lethal Bizzle and DJ Pied Piper, on pirate stations Flight Fm, Upfront FM and Rinse Fm, Hatcha's DJing now extends much further. Playing at various events around the world, especially in Europe, being the front man for Dubstep's first and leading night, FWD>>, mixing Dubstep's first major compilation CD, and even holding down a crucial weekly slot on London's Kiss 100. But, forgetting the massive influence Hatcha's DJing has had in shaping what is now widely considered as one of the UKs most innovative genres, DJ Hatcha has also had a profound affect on the scene through his productions and work in the shop, and as A&R man at the notorious Big Apple records.
The compilation features tracks from Hatcha himself, as well as Kiss 100 studio partner and original Dubstep MC, Crazy D. Other Dubstep stars featured include Kromestar, Tes La Rok, Djunya, Chimpo and big newer names in the form of Kutz and Lost – this album has it all.
Tracklisting:
1.Hatcha – Chillz
2.Djunya – Inclined
3.Hatcha Vs Kromestar – Mmmmm
4.Crazy D – Flex Ting
5.Hatcha Vs Kromestar – Minimum
6.Hatcha Vs Kromestar – Ragz
7.Lost – Neckback
8.Lost – Slawtured
9.Kutz – Freak
10.Lost – Hydrone
11. Kutz – Boss
12. Tes La Rok – Hot Jam
13. Chimpo – Pump Action
Download Available at Juno
Download Available at Beatport
Download Available at DJ Download
Download Available at Track it Down
Related Posts