Mauro Picotto "Now & Then" The Album
Back in 2007, the Top 10 International DJ, million selling artist & founder of the huge Meganite events – Mauro Picotto aka The Lizard Man –  presented a killer new artist album and live on tour DVD unleashing exclusive new tracks hot from the studio alongside some of his biggest club anthems of all time on Now & Then mixed live by Mauro himself!
After many years spending half his life producing & A&Ring BXR Records at the Media Records studio complex in Brescia, Italy and half DJing every weekend, Mauro Picotto decided in 2003 to dedicate his energies almost totally to his DJ career. Since then he is one of those DJs who spends his life on planes travelling the world playing at festivals and mega clubs. Unlike many DJs, Mauro has concentrated on performing at his own Meganite branded events and parties in London, Miami, Turin, Glasgow, New York, Montreal and every Wednesday at Priviledge in Ibiza. Mauro describes these nights as "electronic music lifestyle" and frequently plays much of his own music designed specifically for the mood & energy of these nights. If anyone were to judge what they may hear at these nights by records Mauro made in the late 90s they would be very far off the mark. Mauro's sound now is a fusion of funky minimal with the techy edge and melodic elements that were always his trademark sound.
So after returning to the studio with renewed energy, 2007 saw the release of an album Mauro Picotto 'Now & Then', a DVD Mauro Picotto 'Live On Tour' and singles taken from the album as a fresh and exciting new chapter in his already incredible career.
Tracklist: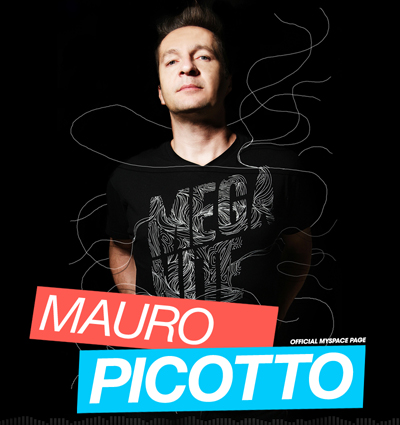 MAURO PICOTTO 'NOW & THEN'
1. Maybe, Maybe Not
2. Contaminato
3. Evribadi
4. Acid Sex
5. Enjoy The Silence
6. Poseidon
7. Meganite
8. Gene Nation
9. Ibiza Angel
10. Bakerloo Symphony
11. Radio Rental
12. Baguette
13. New Time, New Place
14. 3 Months
BONUS FULL LENGTH UNMIXED TRACKS
1. Evribadi
2. Maybe, Maybe Not
3. Ibiza Angel
Click here to go to "Now & Then" on iTunes
Other Mauro Picotto releases:
Meganite 2008
Gonna Get Ya
Related Posts