"Mauro Picotto Presents Meganite" – The Album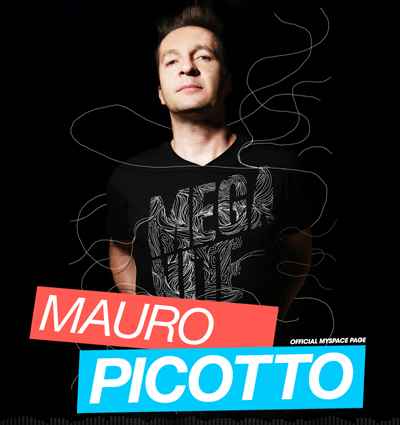 Since Mauro Picotto decided to launch his Electronic Music Lifestyle Party at the Miami Winter Music Conference (WMC) in 2002, Meganite has become a phenomenon, going from strength to strength, hosting nights all over the world. Upon returning to it's Ibiza home at Privilege in 2008, Mauro decided to team up with Big In Ibiza for a Meganite compilation. Meganite is the full and complete representation of Mauro's desires. It's his people with his favourite DJs doing what they want to do, knowing it's what the crowd wants too. This compilation represents just that, the music that makes Meganite, its DJs and Mauro Picotto so special.
On this album we have a live mix of exclusive cuts culled from Mauro's superb Alchemy label and a CD of mixes, remixes and new tracks from Mauro's illustrious career. This is where Mauro is in 2008 and as ever it's on the cutting edge of electronic wizardry fused with pulsating infectious gyrating badass grooves. Meganite and Megatunes, a perfect harmony.
Mauro Picotto himself is one of those wandering entertainers who jumps on jets, arrives in some city anywhere on earth, plays 8 hours of unique, pulsating electronic grooves, parties and then jumps on another jet. He is the wandering minstrel of the 21st century. His name alone sends hordes of adoring fans into ecstasy. Having had an immensely successful DJing and production career with huge hits and headlining some of the world's biggest events Mauro Picotto decided that he wanted to mould a whole event both visually and aurally by choosing the venues, the DJs and the production aesthetics. This goal became a reality when in 2004, Meganite found its home in Ibiza at Privilege. Debuting as a midweek party over the 10 busiest weeks, it was an instant success and every year since the night has become ever more legendary with the weekly number of clubbers well over 5,000.
Having seen residents including Adam Beyer, Chris Liebing, Mistress Barbara, John Aquaviva and Marco Carola with Mauro himself supplying the unique vibe of fat bass and throbbing grooves that have characterized his career, the event returns to Ibiza this year for 16 weekly nights over the season, highlighted by Meganite's 5th birthday which is set to be the event of the summer featuring a "Mega" live show by Italian electronic music giants SUBSONICA, alongside Mauro and special guest Claudio Coccoluto.
CD1, mixed live by Mauro showcases those sounds he has developed, the tracks that all contain the elements that fulfill Mauro's needs for groove, his need for bass and his need for something different that lifts spirits and vibrates bones. All tracks are exclusive to Mauro's respected Alchemy label.
If you've been to a Meganite this CD will bring back the vibe, if you've never had a chance to go it will transport you there and allow you to live the experience with anthems such as the escalating and energy fuelled, Church Of Nonsense, Rizlard and Shark.
CD2, Mauro Picotto Past & Present – 10 years of Classics and Remixes, showcases some of Mauro's biggest tracks to date, with remixes and edits by Mauro, his team of likeminded studio manipulators and others. Including the original mix of Iguana and a brand new remix of Lizard for 2008, two of the tracks which helped establish Mauro's early career. Building through Fonzerelli's remix of last year's club smash Evribadi and Smith & Selway's remix of Maybe, Maybe Not. As well as showcasing some of Mauro's killer new tunes including the beautifully uplifting, The Kite and Contaminato.
Claude Von Stroke – "Church of Nonsense. Are you kidding? S**t is off the hook!"
Dubfire (Deepdish) – "Komonster was massive for me at WMC, thanx Mauro! LOVE Daniele Papini's tune as well.
Sasha – "Excellent selection!"
Axwell – "Komonster is great."
Hector Romero – "Komonster! Rocking beats that I'm looking forward to playing!
Funk D'Void – "Devastating motor engine noise that f**ks people up!"
Mark Knight – "Been rinsing this for time great track"
Over the 5 years there have been several Meganite compilations and this season sees this very special version appearing on the BIG IN IBIZA label (with other key artists joining Mauro Picotto including Jonathan Ulysses, Fonzerelli, Tito Puente Jnr and more). 2008 will be yet another milestone in Mauro Picotto's career and the Meganite parties will be unforgettable!
Tracklisting:
CD1
01. Mauro Picotto – Dubai – Secret Cinema Remix
02. Mauro Picotto – Flashing
03. Athos & Riccardo Ferri – Mescolone
04. Daniele Papini – Altered Meeting
05. Mauro Picotto – Mauro Picotto – Evribadi – Adam Beyer Remix
06. Daniele Papini – Pixel – Riccardo Ferri Remix
07. Alen Sforzina & Riccardo Ferri – Profundo
08. Mauro Picotto – Shark
09. Mauro Picotto – Komonster
10. Daniele Papini – The Church Of Nonsense
11. Danilo Vigorito & Rino Cerrone – Aurum
12. Markantonio & Joseph Capriati – Codice Morse
13. Mauro Picotto – Rizlard
14. Mauro Picotto – Technofour
15. Athos – Lo-File – Riccardo Ferri Remix
16. Gabry Fasano – Architetto
CD2
01. Mauro Picotto – Komonster – Intro Mix
02. Mauro Picotto – Stonehead – Hale Mix
03. Mauro Picotto – Dubai – Original Mix
04. Mauro Picotto – The Kite
05. Mauro Picotto – Stormi di Darghi – Devid Mix
06. Mauro Picotto – Greens – Reccardo Ferri Live Mix
07. Mauro Picotto – Contaminado – Meganite Mix
08. Mauro Picotto – Maybe, Maybe Not – Christian Smith and John Selway
09. Mauro Picotto – Lizard 2008 – Sequence 11 aka Sterbinszky Remix
10. Mauro Picotto – Ibiza Angel – Rex Mundi Remix
11. Mauro Picotto – Mehr Taub – Gabry Ribetti Mix
12. Mauro Picotto – Evribadi – Fonzerelli Remix
13. Mauro Picotto – Iguana – Megavoices Mix
14. Mauro Picotto – New Time New Place – Original Mix
15. Mauro Picotto – Komodo (Save A Soul) – Megavoices Caxxix Mix
Check out the full album on iTunes
Related Posts