Love Assassins Biography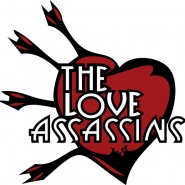 Formed in 2006 Love Assassins have established themselves as a force to be reckoned with their trademark big room hands in the air sound as one of the leading production and DJ teams on Big In Ibiza which has been building from strength to strength with their White Isle inspired beats and events.
Their debut single "Teardrops" set dance floors alight hitting # 1 in the DMC World Club Charts and # 2 in Music Week Club Charts and entering the Cool Cuts at # 15, immediately drawing support from Jason Nevins, Tom Stephan, Jim Shaft Ryan, Jonathan Ulysses, ATFC, 7th Heaven, Nikki Elise, EZ (Kiss) and Kutski (Radio 1) to name a few. Second single "The Boy Is Mine" breathes life into The Architechs unofficial bootleg of Brandy & Monica's R&B hit from 1998 which was and still is one of the biggest & most under represented garage anthems of all time. Fusing the Old Skool Garage vibes of the original, with Nu Skool House & Bassline, Love Assassins unleash more dancefloor mayhem.
Led by Big In Ibiza's Head of A&R Dave 'Filthy' Louca and his crack team of studio misfits, Love Assassins feel at home rocking main rooms, bars and beach sets alike. Having been DJing for over 10 years at clubs, bars and local parties Dave Louca has honed his art and now takes his place as one of Big In Ibiza's Resident DJs playing no nonsense fun, party house music to really get the crowd rocking with their hands in the air! Dave's first big break was hosting the weekly UMM (Underground Music Movement) radio show on Ministry Of Sound Radio for 18 months showcasing the finest house music to thousands of listeners each week under his alter ego Jon Costa.
Following gigs around the country at venues such as the legendary Turnmills, Mango, The Matrix, Area, Suga Qube and many more Dave was asked to play alongside Fonzerelli at Big In Ibiza's opening gig at The White House (Dec '09) and in March 2010 played alongside Basement Jaxx rocking the joint and ensuring dancefloor carnage at the sell out event. 2010 is already shaping up to be the year of Love Assassins with more killer gigs lined up and new productions in the post.
For more news about Love Assassins click here…
http://biginibiza.com/tag/love-assassins/
Discography:
Love Assassins "Teardrops" (inc Fonzerelli Remix)
Love Assassins "Boy Is Mine"
Love Assassins "Just Fine"
Love Assassins "Ain't No Love (Ain't No Use)"
Love Assassins "Drinking In LA"
JoBabe vs Love Assassins "Sing It Back"
Remixes:
Fonzerelli "Infinity" (Love Assassins Remix)
Connected ft Max'C "A Feeling" (Love Assassins Remix)
Ibiza Knights "(Feels So) Good To Be Alive" (Love Assassins Remix)
7th Heaven "Music" (Love Assassins Rmx)
Tito Puente Jnr ft India "Oye Como Va" (Love Assassins Remix)
The Angry Kids vs Bob Marley "Mr Brown" (Love Assassins Remix)
Picotto vs Papini "Gonna Get Ya" (Love Assassins Remix)
Filthy Louca "All Alone" (Love Assassins Remix)
Brazen "What's Love Got To Do With It" (Love Assassins Remix)
Chocolate Party "We Don't Have To Take Our Clothes Off" (Love Assassins Remix)
Lance Ellington "Lonely (Have We Lost Our Love)" (Love Assassins Remix)
Filthy Rich "Music Is Moving" (Love Assassins Remix)
Related Posts