Free MRK1 Dubstep Track!
To celebrate the launch of our new Future Dubstep 04 album mixed by MRK1 (pre-order on iTunes) we are offering a free download from MRK1 himself!
To get your copy simply join our mailing list and you will immediately receive an email with a link to download MRK1 "iLOVE".
http://biginibiza.com/join-mailing-list/
ENJOY!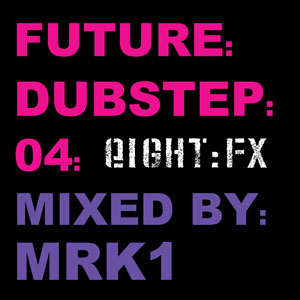 Following on from the ferocious success of Future:Dubstep:03 – our biggest selling album of the year 2010 – MRK1 returns with another slammin selection of the finest dubstep cuts from some of the scene's strongest production talents.
Eight:FX and Big In Ibiza's Future:Dubstep series aims at bringing together Dubstep's most established artists alongside the genres future stars, with Future:Dubstep:04 seeing one of Dubstep's most iconic artists, MRK1 return for a second instalment mixing together over 29 tracks from some of the genres longest running players as well as the best in up and coming talent.
Fusing together the likes of Kiss FM's DJ Hatcha, Crazy D, Cotti, Rebel Sonix, Chimpo and Kissy Sell Out favourites Jeuce,with underground rising stars like RMS, iBenji (supported by Rusko), Eshone and Sashaslay. Many of whom featured on Future Dubstep 03 and helped it become such a hugely successful project which built on the support for Dubstep Sessions and Future:Dubstep:01 both mixed by DJ Hatcha and Future:Dubstep:02 mixed by Bare Noise.
When deciding who should mix Future:Dubstep:03 and Future:Dubstep:04 there was no hesitation in asking MRK1 He is undoubtedly one of Dubstep's most established and respected figure heads. His own Virus Syndicate group found notoriety after scoring a #8 MTV Video Chart position with "Slow Down".and through his own Contagious label, mix compilations including Rephlex's 'Grime' (a key release in pushing the Dubstep / Grime sound to a wider audience) and releases on the genres biggest labels including two artist albums, MRK1 is without shadow of a doubt one of the genre's most influential and successful artists. His own releases on Tempa, Soulja, Vehicle, Rephelx, Polydor, Wall of Sound, Texture, Techonic, Earwax, Terra Rhythm to name a few has seen MRK1 become one of the leading producers in this genre and sell thousands of copies worldwide. MRK1's own record label, Contagious, has unleashed killer dubplates from both himself and from the likes of Skream, Plastician, Chimpo, Sizzla, Jack Sparrow, Virus Syndicate and Oris Jay.
In 2004 MRK1, Plastician and Slaughter Mob released an album called "Grime" on Aphex Twin's label Rephlex Records and was a pivotal album for the dubstep/grime genre. MRK1 has also released two full length albums on Planet Mu, "One Way" and "Copyright Law", and produced The Virus Syndicate's last two albums also on Planet Mu selling over 50,000 copies, "The Work Related Illness" and "Sick Pay".
MRK1 has appeared on BBC Radio 1, BBC 1xtra, BBC Asian Network, Kiss, Galaxy radio stations in the UK and has hosted 1xtra Mix show with his group Virus Syndicate as well as producing tracks for the BBC's "Panarama", and "Undercover Millionaire" TV shows. Mark has also travelled the world as a DJ playing at some of the biggest festivals in the world, including Glastonbury (UK), Ros Kilde (Denmark), Wilsonic
(Solvenia), 10 Days Off (Gent), Sonar (Barcelona), Glade (UK), Cream (UK) etc.
www.myspace.com/mrk1 / www.eightfx.co.uk
Related Posts