Hatcha & Lost – Bongo Vamp (Candy Coated) – Beatport Exclusive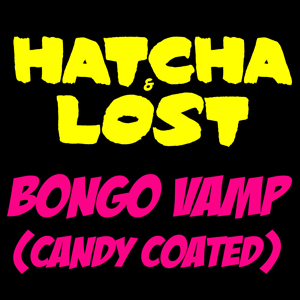 BEATPORT EXCLUSIVE
Hatcha & Lost – Bongo Vamp (Candy Coated)

https://www.beatport.com/en-US/html/content/release/detail/224073/bongo_vamp_candy_coated
Perhaps DJ Hatcha's hottest record to date! Already picking up support from dubplates sent to key DJs "Bongo Vamp (Candy Coated) is now available to download exclusively from Beatport and looking set to dominate their dubstep charts.
"No DJ has ever had, or perhaps ever will again have so much influence over the course of the genre as Hatcha." – Martin Clarke [XLR8R / Blackdown]
Djunya (Narco Hz / Full Melt) – Wicked tune!! Thanks for sending over…
Jay Kenzo (Dub Police / Argon) – Good Tune, would give it spin
DubSpencerSound (Sub.fm) – OMG!!!! This one badboy tune! Love the second drop, Hatcha is the teacher as usual.
Kiss FM's DJ Hatcha is the godfather of Dubstep. As the genre has expanded to the worldwide phenomenon it now is, he has toured the world, playing at the biggest venues and best club nights and most renowned festivals. His recent productions with studio partner Lost (of Jakes' H.E.N.C.H label) have received support not only on his Kiss show, but also from the likes of MistaJam on BBC Radio 1. "Bongo Vamp (Candy Coated)" is the latest in this series of productions and has already been getting massive support from the other Dubstep dons in the likes of Coki, N Type and DJ Chef, as well as on leading Dubstep radio stations.
"Dubstep is a sound that will literally stop you in your tracks, it's so powerful and elemental." Mary Anne Hobbs, BBC Radio 1
"The latest development in British dance music… ready to conquer the world" Gervase De Wilde, The Daily Telegraph
Having accumulated over 10 years DJing experience through his early sets at UK Garage events, alongside the likes of Lethal Bizzle and DJ Pied Piper, on pirate stations Flight Fm, Upfront FM and Rinse Fm, Hatcha's DJing now extends much further. Playing at various events around the world, especially in Europe, being the front man for Dubstep's first and leading night, FWD>>, mixing Dubstep's first major compilation CD, and even holding down a crucial weekly slot on London's Kiss 100. But, forgetting the massive influence Hatcha's DJing has had in shaping what is now widely considered as one of the UKs most innovative genres, DJ Hatcha has also had a profound affect on the scene through his productions and work in the shop, and as A&R man at the notorious Big Apple records.
Related Posts