SOLD OUT – Big In Ibiza present Basement Jaxx
It was confirmed today that Big In Ibiza's hotly anticipated event this Friday (12th March) which will play host to dance legends Basement Jaxx (DJ Set) alongside Bii artists Love Assassins and Cut & Splice has now SOLD OUT due to high demand, a testament to the growing success of previous Big In Ibiza parties this is also huge for The White House who celebrate their 10th birthday celebrations this week and have gone all out to impress not only on this night but also by booking Maxi Jazz (Faithless) on Thursday night and Freemasons on Saturday night.
Big In Ibiza's Friday night residency at The White House has established itself as the night of choice in south west London, drawing capacity crowds with some fans travelling from out of town to come and dance till dawn to our unique brand of sexy, stylish and fun party house music often only leaving to the chants of "One more tune! Ones more tune!".
Prohibition DJs host Room 2. DJs on the night include… Cape Town Mafia, Laura Essence and David Coleman, Tobie Allen, DJ Opti, Lauren Lyon and Lee Rich.
If you can get hold of tickets come down – it's gonna rock!
Date: Friday 12th March 2010 (7pm – 6am)
The White House, 65 Clapham Park Road, London SW4 7EH
Check out the Big In Ibiza podcast mixed by Love Assassins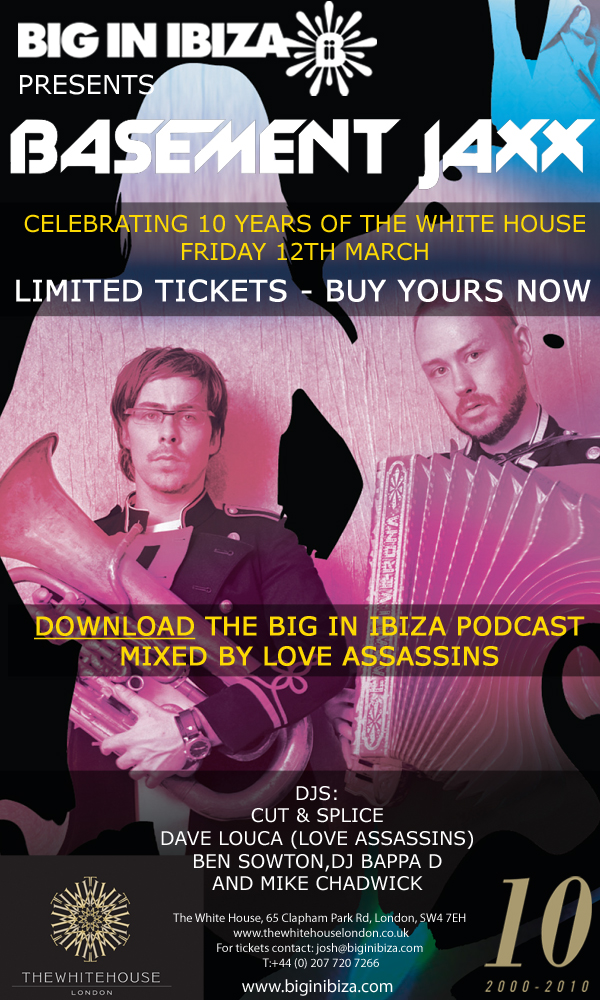 Related Posts