Twist & Shout – Indie Vs Dance Set Times Announced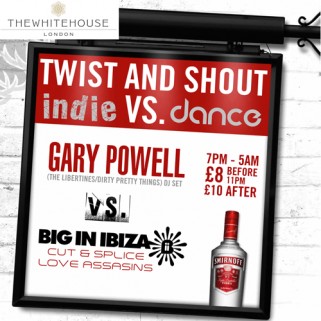 The time is nearly upon us for the biggest party to date!
Tomorrow night Indie anthems will be ripping up the floor as Gary Powell from the Libertines will be taking on our Big In Ibiza DJs who will be whipping you into a frenzy as they spin all your favourite dance tunes on the decks.
This is not a night to be missed at any stretch of the imagination!
Plus now we bring you the set times for the night so you will know who is facing off against who.
Let the battles commence and we hope to see you on the dance floor!
Twist & Shout – Indie Vs Dance
@ The White House, London – 65 Clapham Park Rd, SW4 7EH
Date: June 11th 2010 / Time: Doors open 7pm, tunes kick off 9pm and switch off 5am.
Entrance: Tickets, £7 – Concessions Guestlist, £5 – £8 on the door before 11pm, £10 after
Line Up:
Gary Powell DJ Set (The Libertines / Dirty Pretty Things)
VS
Big In Ibiza DJs:
– Cut & Splice
– Love Assassins
Room 2: Big In Ibiza DJs
Offers & Drinks Discounts:
Free Moscow Mule for every entrance with a ticket before 11pm
£2.50 for house beer, house wine or house spirit & mixer before 11pm
2 for 1 on selected cocktails before 11pm
Set Times:
10pm – 11pm Love Assassins
11pm – 12am Cut & Splice
12am – 1am Gary Powell
1am – 2am Love Assassins
2am – 3am Gary Powell
3am – 4am Cut & Splice
Also don't forget to get your free DJ mix from the Love Assassins
Related Posts