Barack Obama Ecstasy Pills?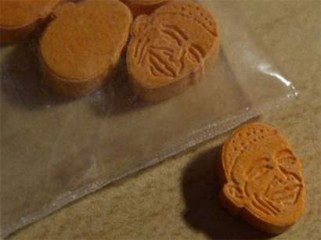 Yup, Barack Obama shaped Ecstasy pills have hit the streets in America.
The 44th President of the United States Of America, Barack Obama has been immortalised in many ways, but now his face has turned up on a batch of Ecstasy pills that were seized in a recent roadside stop in Southern America.
Police detained a driver after a routine roadside search of his car uncovered a whole host of drugs, including black tar heroin, cocaine, marijuana and several Ecstasy pills in various shapes and sizes – including the now infamous 'Presidential specials'. Police say the Ecstasy was in brightly colored pills made to look like US President Barack Obama, as well as popular cartoon characters Homer Simpson and The Smurfs.
CBS News reports:
The drugs look like a "vitamin for kids," police spokesman Lenny Sanchez said.
Well, at least we don't have to worry about that – who would ever want to touch something in the shape of Gordon Brown?