Calling all noodly producers!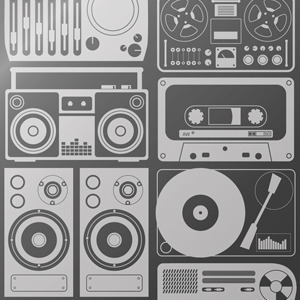 Are you a old-skool producer? Is your dream to have huge racks of old analogue gear with mountains of cabling draped all over your bedroom? Do you spurn MP3s and AACs in favour of that goold old warmth of Vinyl or retro-style cassetes? Finding it hard to locate all that stuff on Ebay or down your local tip?
Well here's a solution. You can get this very special wall paper from designer Aimee Wilder and turn your bedroom into a faux analogue world. You can turn time back to the 60's, 70's and 80's with ghetto blasters, reel to reel tape machines and good old cassette tapes. It doesn't matter that you're still using those imitation analogue plugins and state of the art amplification, the vibe will certainly be bang on.
Of course here at Media we still have all this stuff because we never got round to throwing it out in the first place. Not that we ever use it but hey, we dont have to spend 140 big ones per roll of this wall paper to get that vibe back. We just employ an army of cleaners to keep the dust at bay. Please let us know if any of you are tempted to decorate retro stylee, or if you have the same mountains of old analogue gear send us a pic!
Related Posts