CHRIS MIMO "PICK ME UP"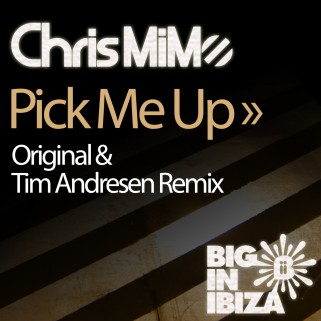 Dubfire – 10/10
Chris MiMo is firmly establishing himself as an international DJ, Producer and Promoter with style, charisma and talent to test the very best, packing out almost every one of Britain and Europe's favourite spots and best parties.
Headlining & spinning at… The Cross, Pacha, Ministry of Sound, The Egg, Turnmills, The Lightbox, White House, Bar54, The Island, Sankeys – Tribal Sessions, Back 2 Basics, Bloom Festival, Privilege Ibiza, Es Paradis Ibiza, and more. Playing alongside international stars such as Carl Cox, Eric Morrillo, David Guetta, Kissy Sell Out, Luke Dzierzek, James Talk, Jonathan Ulysses, Luke Solomon, Tim Sheridan, Shane Watcha, Joey Negro & MYNC Project.
Starting his production career as one half of Dirty Funk Munkees Chris immediately made an impact with his first tune, a one-off test pressing that to this day hasn't had a title or even a release getting listed in Pete Tong's top 10 tunes of the summer! Now following his 2 singles "MiMo" and "Parachute" and 2 remixes (Picotto vs Papini "Gonna Get Ya" & Fonzerelli "Losing U") from last year Chris intends to show what he's really made of crafting his debut artist album, numerous singles as well as collaboration projects and remixes.
Having already had support from big guns like Sander Kleinenberg, David Guetta, Damian Wilson, John Jones, Sharp Boys, Stimpy, Simon Dale, DJ Paulette and more Chris is aiming higher with his new release "Pick Me Up".
With its deep, dark, booming, acid bassline and hypnotising melodies "Pick Me Up" hooks you instantly into its jacking driving grooves before dropping to a piano break filled with tension like the calm before a storm. Stirring and building to a huge crescendo dancefloors will be set alight when the bassline drops back in alongside the gorgeous pianos. Chris MiMo starts as he means to go on with this phat chunky tech monster.
On the flip Tim Andresen, considered the most influential man in Danish house music as well as a leading international DJ takes on remix duties. Also part of Professional Losers, Tim has had releases signed to Norman Cook's mighty Southern Fried label, Mark Knight's Toolroom as well as Azuli, Fragile, Distinctive and Suesse to name a few gaining support from the likes of Pete Tong, Erick Morillo, Deep Dish, Hernan Cattaneo, Nic Fanciulli and Fatboy Slim. For this remix Tim Andresen brings the sound of his What Happens label and event to Big In Ibiza and twists the track subtly to his own design. Check out Tim Andresen "Do Your Thang" forthcoming on Big In Ibiza featuring Chris MiMo on remix duties in April.
Early tastemaker feedback has been strong with more coming in every day. Watch this space.
Joan Ribas (Ibiza Global Radio) "Your track sounds amazing… great melodic tech tune!!!"
Graham Sahara (Pacha Ibiza / Seamless) "This is great. I really like it. I'm gonna play it tomorrow night."
Chris Cargo "Nice and groovy mate will drop this tonight"
Jason Herd "Nice Track"
Luke Dzierzek "Well done on this"
Damian Wilson (Cr2) "This track sounds great!"
Gavyn Mitchell (The Gallery) "I played your track on ministry radio for the gallery sessions"Rachel Barton (Radio 1 Producer) "Thanks for this – like it!"