Design Deadmau5's next tattoo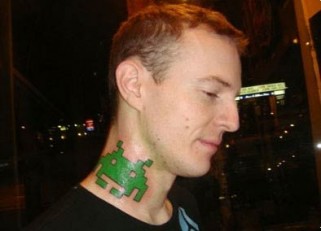 Yes, you heard right, Deadmau5 is offering his fans the chance to design the next bit of ink on his body. Before you go rushing off in a creative storm, there's a snag to the idea – you have to get a Mau5head tattooed on you first!
He's quite fond of a bit of the old inking (as seen in his Space Invaders tat and a myriad of others), and he's put it to his fans to get involved with the next one, as revealed on his social media sites last week:
"Getting a sleeve done, and I've thought of a really f***ing cool idea" he said on his Facebook page. "For every one of you crazy fans i love so much that have deadmau5 tattoos, im going to give you a square inch or something like that for you to design me something," he continued. "ill eventually compile them all and get a full sleve [sic] done :)"
If you want to have a go, email a pic of your tattoo to deadmau5@deadmau5.com with 'deadmau5 tatt project' in the subject line, and your design. Er, if you are mental enough to give this a go, we guess we had best wish you all good luck?
Related Posts