Electro House Miami 2009
Available to Download at Itunes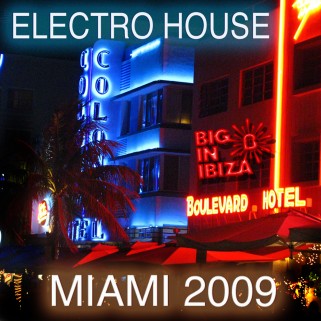 To celebrate the upcoming 2009 Winter Music Conference WMC, Big In Ibiza present their yearly Miami mix made up of 10 of their hottest upfront tracks on 1 digital mix album, "Electro House Miami 2009". Featuring massive records from Mauro Picotto, BK, Tito Puente Jnr, Fonzerelli, Love Assassins and Chris MiMo.
Leading the mix is Love Assassins' 'Just Fine' which adds a new dimension to Mary J. Blige's Top 20 R&B sensation and sees Love Assassins showcasing another side of their production talents with a pumping vocal house anthem mix already a hit with 7th Heaven and looking set to become their killer third single. Branded's big Electro sound follows with 'Dirty' while Jo Babe's 'Show Me The Love' covers Robin S' original of what is undoubtedly one of Dance's most legendary commercial hits. Ann Marie's old skool anthem, '(You're My One And Only) True Love' also features in the form of Roger S' Hands in the air remix. Steve Haines then takes on Joy 'n Pain's Bassline smash 'My Love' to give it a house go over and Filthy Louca's 'Believe In Me' presents lush pads, rave style chords, techy synths and vulnerable vocal samples that creates a Kaskade and Deadmau5 influenced feel good vibe.
The last half of the mix features some of Big In Ibiza's biggest and best with tracks and remixes including what was 2008's biggest underground Ibiza anthem, Mauro Picotto and Daniele Papini's Church Of Nonsense bootleg, 'Gonna Get Ya' and another Beatport smash in the form of Filip Le Fricks incredible remix of Tito Puente Jnr Ft India, 'Oye Como Va'. Chris MiMo also takes to the buttons for the remix of Fonzerelli's massive 'Losing U', while the Big In Ibiza boys and girls get on BK's classic anthem, Revolution. This was the last ever vinyl top 40 and is a real classic for all dance fans with 2009 seeing a whole rework of the Nukleuz original, this is the Big In Ibiza dub especially for House fans.
Tracklist
1) Love Assassins – Just Fine (Original Mix)
2) Branded – Dirty (Original Mix)
3) Jo Babe – Show Me Love (Original Mix)
4) Ann-Marie Smith – (You're my One And Only) True Love (Roger S Hands In The Air Mix)
5) Joy 'n Pain – My Love (Steve Haines Mix)
6) Filthy Louca – Believe In Me
7) Fonzerelli – Losing U (Chris MiMo Mix)
8) Tito Puente Jnr Ft India – Oye Como Va (Filip Le Frick Remix)
9) Picotto Vs Papini – Gonna Get Ya (Love Assassins Remix)
10) BK – Revolution (Big In Ibiza Dub)