Filthy Rich – Valentines Ball – Gatecrasher Birmingham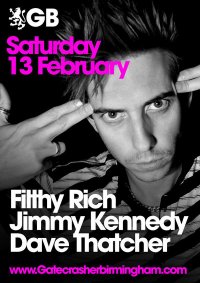 Valentines Ball – Saturday Feb 13th
Gatecrasher Birmingham
Filthy Rich
HeadliningThe Main Room

Filthy Rich's innovative sound has made him undeniably one of the country's finest DJs today.
A promising figure looming out from the crowd, Rich is the complete package.
Without dictating to the crowd, Rich has become popular with everyone from the techno train-spotter, to the handbag honey through his envy-inducing music. His tight mixes and twisted sounds mean nothing is ever a disappointment.


Stereo:type
Headlining The Mansion

Emerging from London underground comes the pairing of esteemed producers Ctrl Z & Screwface. Their aim has been to take Djing to another level and thats exactly what they have done. The deceivingly simple set up of 5 decks and 2 mixers is the platform for the fast paced, highly original live mash up of more tunes and genres than imaginable. Setting a new standard in the party-rocking stakes, Stereo:Type deliver a show encompassing any music which fits their ideals, fused together with scratching, beat juggling and mind blowing mixing skills.


Main Room
Filthy Rich
Jimmy Kennedy
Dave Thatcher
Mansion
Stereo:Type
Arkade
Joe Hunt
Tom Shorterz
Bed
RnB
Lee Smith
Admission: Standard £10 /NUS £5
Purchase Tickets here