Free Big In Ibiza Christmas Mash Up preview mix
Now it's December we can finally talk about Christmas without feeling too guilty…Yay!
So, having already eaten all the chocolate out of our advent calendars, we have another mix to prepare you for the forthcoming Big In Ibiza Christmas Mash Up at The White House on the 11th December:
https://download.yousendit.com/Z01Nb253Q3Q5RmFGa1E9PQ
James Stephenson has kindly uploaded a "Taste of Closure" mix to showcase what you can hear from him on the night. James, Steve & Andy will be playing on the night alongside headliners Cut & Splice, Love Assassins, Matt Smallwood, Dave Coleman & Laura Essence…it's going to be big!
For guestlist please email josh@biginibiza.com
Event details: http://www.facebook.com/event.php?eid=170118051919&ref=ts
See you all on the dancefloor!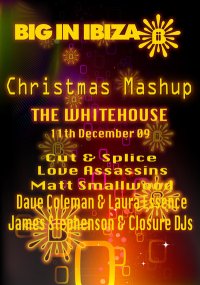 Related Posts