Ibiza Closing Party 2008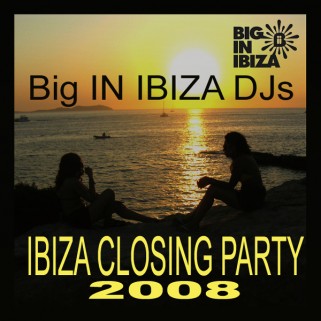 The third in Big In Ibiza's 2008 Ibiza summer series, Ibiza Closing Party 2008, mixed by Big In Ibiza DJs is another 10 tracker rammed right to the brim with this seasons White Isle anthems!
Kicking things off with the No.1 DMC & Music Week Club chart topper, is The Wideboys and their Miami mix of Connected Ft Max'C – A Feeling.
Next on the agenda are Audioscape & Annikka (usually more known for their big room Trance anthems) with the House mix of the 'All My Lovin' single, forthcoming on Audioscape's new Trance Form album. For this the crossover works amazingly well, with Annikka's beautiful vocals succeeding in creating another big summer vibeing house anthem.
Other tracks to take note of throughout include the massive Ibiza Knights, '(Feels So) Good To Be Alive'. A track that shot into the Itunes top 20 off the back of Big In Ibiza's Opening Party mixed by Jonathan Ulysses. This time with the full vocal Terrace mix that adds to that special euphoric, uplifting feel of the track and keeps this compilation's sing-along theme running all the way through. There's also the Love Assassins' mix of Filthy Louca's massive 'All Alone', with its haunting, vulnerable vocal sample complimented by an uplifting piano to give the whole track a bittersweet feel good vibe. Big Piano's also appear in the mix with Pedro De La Fiesta's fiesta rework of The Angry Kids & Bob Marley's 'Mr.Brown' and Chris MiMo Jones' new club anthem 'Parachute'.
Finally up is Chris MiMo Jones' huge remix of this summers absolutely monstrous underground Ibiza Anthem, Picotto Vs Papini, 'Gonna Get Ya', Anthony Brooks & Tristan D's Azzido Da Bass like smash, 'Do You Know Who
I Am' & last up is the Love Assassins again with their remix of Fonzerelli's Infinity.
Tracklist
1. Connected ft MaxC – A Feeling (Wideboys Miami Mix)
2. Audioscape feat Annikka – All My Lovin (House Mix)
3. Angry Kids vs Bob Marley – Mr Brown (Pedro De La Fiesta Remix)
4. Roulette ft Charlotte McKinnon – Someone To Hold
5. Ibiza Knights – (Feels So) Good To Be Alive (Terrace Mix)
6. Filthy Louca – All Alone (Love Assassins Mix)
7. Picotto vs Papini – Gonna Get Ya (Chris MiMo Jones Remix)
8. Anthony Brooks And Tristan D – Do You Know Who I Am
9. Chris MiMo Jones – Parachute
10. Fonzerelli – Infinity (Love Assassins Dub)
Available to Download at:
Beatport
Track it Down
Itunes