Love Assassins "Teardrops"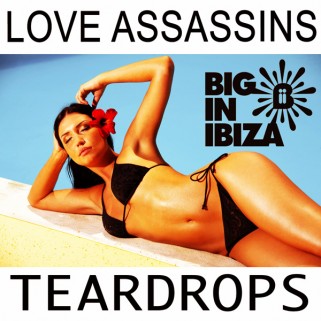 Big In Ibiza the new label from the people behind the resurgent UMM drop a sundrenched beach anthem for the summer courtesy of hot production team Love Assassins whose cover of the hugely popular, well known and loved "Teardrops" have established them as the DJ / production team to turn to when the dancefloor needs rocking!
Having already dropped killer reggae inspired remixes of The Angry Kids vs Bob Marley 'Mr Brown' and a pumping mix of the forthcoming classic Connected ft Max'C 'A Feeling' the tag team re-visit their massive 'Teardrops' release with a host of new mixes set to rock all floors this summer with guitar riffs & stabs courtesy of 'We Will Rock You' & Eric Clapton guitarist Alan Darby and vocals from the gorgeous and talented JoBabe!
Featuring killer pumped up mixes from Yer Man, Fonzerelli, Agent X (of H'Two'O fame), and Love Assassins themselves (as featured on Jonathan Ulysses brand new mix album "Ibiza Opening Party 2008"). Agent X bring a Bassline twist to the track that's seen 3 weeks support on the trot by DJ EZ on Kiss 100 making it already a Bassline anthem. Alternately get funky with the Beautiful & Pedro De La Fiesta mixes and bliss out with Blackstone.
Jason Nevins "Man Aaron [Fonzerelli] really f***ing killed your record…GREAT, GREAT JOB!!!so cool!BIG drums! Ill definitley play it!!"
"Went down a treat – full club and radio support! Well done and will continue to support" DJ EZ (Kiss 100)
"Yer Man mix is very cool" – Tom Stephan
Remixes
1) Fonzerelli Remix
2) Yer Man Remix
3) Love Assassins Mix
4) Beautiful Mix
5) Blackstone Remix
6) Agent X Remix
7) Pedro De La Fiesta Remix
8) Sy & Unknown Remix
9) Impact Remix
10) Kenzie & Cobain Remix
11) Bass Slammers Remix
Download from:
Beatport
DJ Download
Trackitdown
iTunes
Juno Download
Related Posts