Moonlight Party 2011 #11 in Cool Cuts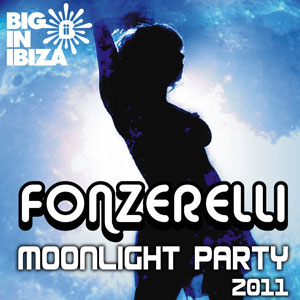 The smoking new mixes of Moonlight Party featuring the gorgeous vocals of Ellenyi have smashed into the Cool Cuts chart as a new entry at #11. Big things coming for this massive rework of a club anthem.
In 2006 Fonzerelli unleashed his biggest ever club record, "Moonlight Party" which captured the hearts of the world's biggest DJs having been championed by Tiesto and supported by the likes of Judge Jules and Paul Van Dyk. With its clever, minimal use of vocals and infectious hooks it became a global club classic and a hit in The Netherlands, Australia and Finland.
In 2011 Fonzerelli teamed up with hot new artist Ellenyi. After collaborating on several projects the duo decided to completely rework Moonlight Party giving this traditionally chorus only club record the full vocal it was always crying out for. Writing her own new and original verses with a uniquely beautiful and passionate performance Ellenyi's vocals sit perfectly alongside Fonzerelli's contemporary new mixes and a huge remix package featuring LoverushUK!, Setrise, Gleave, Jimmie Page (Ultra Music Festival) and Super Hoo Men. With your support we can make this a summer smash!
Original Release Stats:
• Original Official Video has now received 1 million+ hits on YouTube
• # 1 Download Of The Year on DJ Download 2005
• Featured on Pete Tong's FastTrax podcast
• Championed by Tiesto on "In Search Of Sunrise Vol 5"
• Official Singles Chart: #8 Finland, #28 The Netherlands and #44 Australia.
• UK Music Week Club Chart # 1 and Buzz Chart # 2
Fonzerelli – Moonlight Party 2011 [Clips] by BigInIbiza
The Cool Cuts is the UK's leading tastemaker dance chart compiled from reactions from tastemaker DJs and the Cool Cuts panel, now in it's 23rdyear. The Cool Cuts is exclusively published in MUSIC WEEK, the UK's leading music industry trade publication. www.musicweek.com
COOL CUTS CHART 16/06/11
1 – 2 – EASY PLEASE ME – KATY B – COLUMBIA – With mixes from Caspa and Royal T
2 – 3 – WHERE DEM GIRLS – DAVID GUETTA ft NICKI MINAJ & FLORIDA – VIRGIN – Another floorfiller from Guetta and friends
3 – NEW – STRONGER – ERICK MORILLO & EDDIE THONEICK ft SHAWNEE TAYLOR – 3 BEAT – Big club tune set be an anthem this summer
4 – 6 – THE TRUMPETER – RAY FOXX – DEFECTED – Cool club tune set to be a club favourite this summer
5 – NEW – WORLDWIDE – ROGER SANCHEZ ft MOBIN MASTER & MC FLIPSIDE – STEALTH – With mixes from Adrian Lux & Blende, Boby Burns, Coucheron and Santos American Spirit
6 – NEW – DIAMOND JIGSAW – UNDERWORLD – COOKING VINYL – With mixes from Jacob Plant, The Invisibles and James Dean Bradfield
7 – 9 – SOMETHING ABOUT YOU – TENSNAKE – MIRAU – Retro house with remix from Jas Shaw
8 – 11 – MINDFIGHTER – RETRO/GRADE – DECONSTRUCTION – With remix from Boy 8-Bit
9 – 8 – I GOTTA ROKK – DJ SHADOW – ISLAND – Hot track ahead of his new album 'The Less You Know, The Better'
10 – NEW – LIAR – ANALOGUE PEOPLE IN A DIGITAL WORLD ft SAM OBERNIK – HYSTERICAL – Latin house tune with mixes from Gramaphonedzie and Reset
11 – NEW – MOONLIGHT PARTY – FONZERELLI – BIG IN IBIZA – Summer tune with mixes from Aaron McClelland, Loverush UK and Gleave
12 – 14 – AGE OF LOVE – AGE OF LOVE – NEWS – Trance classic gets updated dubstep style by Subscape, Syndaesia and Ed Solo
13 – 15 – TAKE ME TO THE STARS – NARI & MILANI & CHRISTIAN MARCHI ft SHENA – EGO – Driving Italian electro house groove
14 – NEW – THE AFTER PARTY 2011 – WAWA ft EDDIE AMADOR – WAWA TRAXX – Hot poundng house groove
15 – 17 – TROUBLE – TOTALLY ENORMOUS EXTINCT DINOSAURS – POLYDOR – With mixes from Jamie Jones, Lapalux and Chad Valley
16 – NEW – NEW YORK BOY – ELLESSE – REBIRTH – With remixes from Todd Terry
17 – NEW – I WANT YOU (HOLD ONTO LOVE) – CEE LO GREEN – WARNERS – With mixes from Redlight and Jack Splash
18 – NEW – GOD ALWAYS – SHARAM – YOSHITOSHI – Cool new club track that was hot in Miami
19 – NEW – THE SOUND OF THE TIMES – ROBBIE RIVERA – BLACK HOLE – From his new album Dance Or Die
20 – NEW – 3 AM ETERNAL – SERGE DEVANT ft TALEEN – ULTRA –
Related Posts