Sin City @ Red Bull Music Academy 2010
RED BULL MUSIC ACADEMY hits London this February, bringing you 30 mind blowing music events in 30 nights. From the 7th February to the 12th March you can catch some of the world's most exciting and leading artists perfoming (For a full list click here).
A man performing has been leading Big In Ibiza's Dubstep front –  Kiss FM's DJ Hatcha. Having mixed our first Dubstep compilation, as well as the first in our Future:Dubstep series, Hatcha now teams up with label co-owner N Type to promote their new london residency.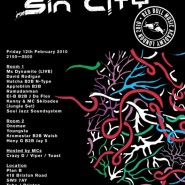 Sin City (Friday 12th Feb):
SIN CITY and HYPONIK are proud to be part of the global symposium of musical knowledge that is RMBA, and we're bringing one of the biggest Dub-based line-ups to Plan B for a Sin City special on Friday 12th February.