Studio News @ Big In Ibiza
Here at Big In Ibiza we'll be bringing you regular updates from Studio 1 and 2, giving you an idea of what we are getting up to, what you can look forward to and what's going on. Studio 1 is bouncing this week with a brand new track for a Universal compilation album for BRANDED alongside a rework "Moonlight Party" by Fonzerelli – recognised by many to be THE original trance/house hybrid, which has was supported by DJs the world over, including Jason Herd, Filthy Rich, Tiesto, Paul Van Dyk, Judge Jules, Per QX, Paul Thomas, Justin Wilkes, Andi Durrant, Daniele Davoli, Kinkymalinki, Hed Kandi, Eddie Halliwell, Matt Darey, Dave Pearce, Jonathan Ulysses, Trophy Twins, The Wideboys, Flash Brothers, & Ministry of Sound.
Meanwhile, Studio 2 has been rounding up an original production set to hit the states with US rappers Mickey "OH SNAP!! Fortune www.myspace.com/daworldfamousohsnap ( Watch out for them landing in Europe in early December) and Jen Lasher www.myspace.com/jenlasher – a DJ and female rapper with attitude – from The Wire's very own Baltimore.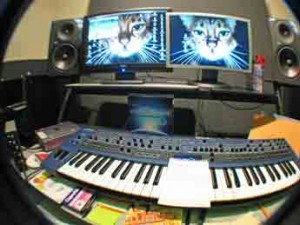 The track's going to be Hip house, Urban Dance or Brit Hop meets yank attitude with a low down dirty groove.
We had Jenny in the world famous studios to come and lay down her vocal tracks, before Micky hit his local studio in Maryland and then recorded Jen's overdubs back in the States as she passed through while on her constant touring schedule.
Won't be long to wait before it's out but if you're catching either of these artists live in the next couple of months you'll get a preview of whats coming. Enjoy it while you're in that exclusive group who know stuff before its even available. Nice.
Related Posts