Cancun Electro Anthems 2010 Out Now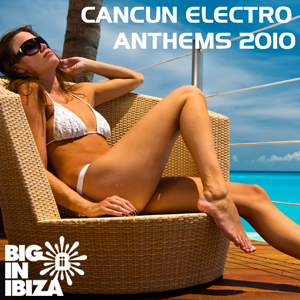 Cancun has to be the number one destination for Spring Break in the World. Each Spring tens of thousands of American, Canadian students (and massive party animals from around the globe) head out to experience some of the best nightlife in Latin America including huge nightclubs that hold in excess of 5,000 people.
Fine white sand beaches along a 25km strip, cool blue Caribbean waters, temperatures well into the nineties, world class artists from Eminem to Basement Jaxx to Sasha perform live… Sounds good doesn't it?! This is why Cancun during Spring Break is the ultimate in party destinations.
To try and bring you a piece of the sea, sun, sex, pure hedonism would be a nearly impossible feat. So Big In Ibiza have teamed up with mash up masters Cut & Splice to present a killer DJ Mix of Electro anthems to bring the essence of this immense party atmosphere to your iPod and house parties!
Featuring 17 of the hottest cuts including upfront exclusives, classics remixed and some of our biggest anthems to date! This is Cancun Electro Anthems 2010.
Tracklisting:
01) Tito Puente Jnr ft India 'Oye Como Va' (Love Assassins Remix)
02) Cracked Logic 'Hurt You So' (Original Mix)
03) Nathan C & Danny Dove 'Something Goin' On' (Original Mix)
04) BK 'Revolution' (Big In Ibiza Dub)
05) The Str8jackets ft MC Chickaboo 'Move & Rock' (Cut & Splice Vocal Mix)
06) Clock 'Whooomph! (There It Is)' (Cut & Splice Manic Dub)
07) Love Assassins 'Drinking In LA' (Big In Ibiza Mix)
08) Cut & Splice 'A Tad Bendy' (Dub)
09) Cut & Splice 'Old Skool New Skool – Vol'
10) Cut & Splice 'Old Skool New Skool – Vol 2'
11) Charlotte Narni 'F**king with the DJ' (Cut & Splice Dub)
12) Mohito (featuring Howard Jones) 'Slip Away' (Filthy Rich Remix)
13) Dan McKie & Phil England ft Max'C 'What Goes Around' (Dezza Remix)
14) Chris MiMo 'Sexy Lady Dance' (Big In Ibiza Mix)
15) Dominatorz 'Why Can't We Live Together' (Damian Wilson & Darren Crook Remix)
16) Love Assassins 'Ain't No Love (Ain't No Use)' (Big In Ibiza Mix)
17) Brazen 'What's Love Got To Do With It?' (NRG Mix)
Related Posts