Dan Mckie & Phil England 'What Goes Around'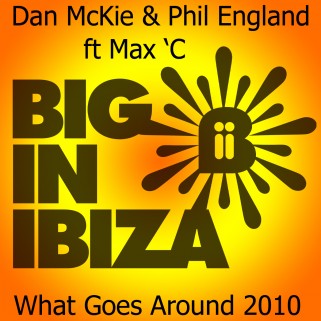 Featured on Jonathan Ulysses latest mix album, Ibiza Opening Party 2008, this collaboration from Dan McKie, studio buddy Phil England, and Big In Ibiza favourite, Max'C (The vocalist behind Axwell's smash 'I Found U' and Big In Ibiza's summer Anthem, Connected 'A Feeling') is one of those big room, catchy sing along anthems. Combining soulful vocals, smooth, rolling beats and filthy synth and FX with old skool vocal stabs to create an ever evolving sound that brings that electro rave vibe right back to the future.
Neatly building up to introduce those luscious vocals from Max'C, which then continue to tease the ears all the way through the build up, the track peaks with a drop that leads into a pumping old skool rave anthem with that same 'Party' vocal stab that's been a part of Dance tracks for so long it's almost become bed rocked into the genres history!
Newcastle born Dan McKie has been knocking about for a while now and having spent the first 3 or so years in a DJ/Production duo, where he produced originals and remixes for labels such as MOS, Skint, AATW, Sony/BMG, Effin/USA, and DJ'd in places as far off as Kazakhstan with residencies in the US and running his own events in the UK Dan has always been a busy body!
Since going solo though, Dan has been building up a reputation as one of the hottest young house producers on the circuit and now with a few great tunes under his belt and collaborations with the likes of Jonathan Ulysses, Andy Morris (Narcotic Thrust) and Licious K already under his belt and support from big players all over the world including Pete Tong, Tall Paul, Andi Durrant, Judge Jules, Steve Lawler, John Digweed and more. Here he teams up with another rising star, with just as much of a history of support, Phil England to create, 'What Goes Around'.
Max'C is a man of many talents and having even opened for P'Diddy and Snoop Dogg, the Professional Break dancer, actor and vocalist is a name recognised by many in the know. Following on from his input into Big In Ibiza's earlier summer anthem, 'A Feeling', Max is set to collaborate with the likes of David Guetta, Soul Avengers, Todd Terry, StoneBridge and many more top acts over forthcoming months and now brings his soulful vocals to the table for this release.
Available to Download at Itunes
Available to Download at Track it down
Available to Download at DJ Download
Available to Download at Beatport
Related Posts