Electro House: Miami 2010 – Out Now on ALL STORES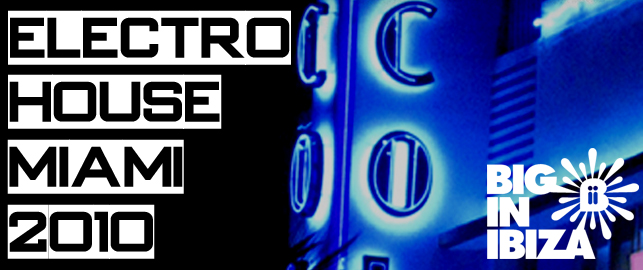 The bright lights, shimmering swimming pools and banging tunes of Miami might be a fading memory for some but having returned from Miami with an armful of new tunes fresh off the decks of the hottest clubs Big In Ibiza have compiled 2 DJ Mixes with 20 full length tracks (DJ friendly) in their yearly Electro House: Miami 2010 mix, made up of their hottest upfront tracks especially for the stateside clubs and hotel pool sides. Featuring massive anthems and mixes from Love Assassins, Ibiza Knights, Dominatorz, Phil Crawf, Matt Smallwood, Chris MiMo, Peter Brown and more.
As well as being one of the most important annual international events on the dance music calendar, 2010 also sees Miami's Winter Music Conference celebrate it's 25th year as an essential destination for clubbers and industry alike. In celebration Big In Ibiza have gone the extra mile in making sure this album is just as special as the event, ramming it with 100% compilation exclusives. Now available on all good download stores!
Download from:
Beatport
iTunes
Trackitdown
Juno Download
DJ Download
Audiojelly
Tracklist:
Electro House: Miami 2010 – Mix 1
1) Dominatorz 'Why Can't We Live Together – Sunset Mix'
2) Ibiza Knights '(Feels So) Good To Be Alive – Filthy Louca Dub'
3) Chris MiMo 'That Soup Track – Original Mix'
4) JoBabe 'All in All'
5) Joshkovsky '40 Miles – Big In Ibiza Mix'
6) Chris MiMo & Ben Dela-Peña 'Come Over Here – Big In Ibiza Mix'
7) Peter Brown 'Vermella – Original Mix'
8) JoBabe vs Love Assassins 'Sing It Back – Original Mix'
9) NV & Noy 'Moscow – Original Mix'
10) Nathan C & Danny Dove 'Something Goin' On – Original Mix'
Electro House: Miami 2010 – Mix 2
1) Jonathan Ulysses & Peter Brown 'Time – Eric G & Tom Geiss Remix'
2) JoBabe 'Forget Me Nots – Original Mix'
3) Matt Smallwood 'Debut – Big In Ibiza Mix'
4) Phil Crawf 'Deadbeat – Big In Ibiza Remix'
5) The Str8jackets ft MC Chickaboo 'Move & Rock – Cut & Splice Vocal Mix'
6) So Called Scumbags 'The Morning Session'
7) Love Assassins 'Drinking In LA – Instrumental Dub'
8) Chris MiMo 'Electric Nights – Original Mix'
9) Clock 'Whoomph there it is – Cut & Splice Manic Dub'
10) Cracked Logic 'Hurt You So – Original Dub'
Related Posts