Future Dubstep 03: Mixed by MRK1 – Out Now on iTunes
This is the 3rd in a series of successful live mix compilations from Big In Ibiza and leading Dubstep label Eight:FX, following on from Future Dubstep 01, Mixed by the Dubstep scene's original DJ, Kiss 100's Hatcha and Future Dubstep:02, mixed live by Bare Noize.
Buy now exclusive on Itunes:   http://phobos.apple.com/WebObjects/MZStore.woa/wa/viewAlbum?id=3494666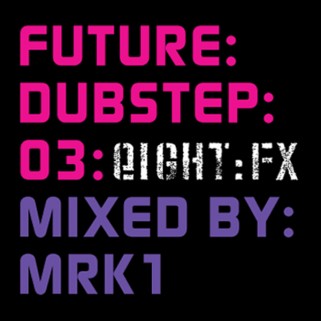 When deciding who should mix Future:Dubstep:03 there was no hesitation in asking MRK1. He is undoubtedly one of Dubstep's most established and respected figure heads. Through his own contagious label, mix compilations including Rephlex's 'Grime' (a key release in pushing the Dubstep / Grime sound to a wider audience) and releases on the genres biggest labels including two artist albums, MRK1 is without shadow of a doubt one of the genre's most influential and successful artists.
Apart from production and mix compilations though, Mark has also DJ'd all over the world and played at some of the globe's best clubs and biggest festivals including: Glastonbury (UK), Ros Kilde (Denmark), Wilsonic (Solvenia), 10 Days Off (Gent), Sonar (Barcelona), Glade (UK), and Cream (UK).
MRK1's success behind the decks and studio buttons have led him to appear on almost every major UK radio station including Kiss FM,  BBC Radio 1, 1xtra and Galaxy FM. On top of this Mark has also been featured in major dance publications from Mixmag to IDJ and DJ magazine.
Featuring on the compilation are three records from Hatcha & Kromestar as well as a host of records from MRK1 himself and bonus tracks from Cyrus (of Random Trio). Future:Dubstep:03 also previews tracks from some of Dubstep's best up & coming talent including the consistently genre chart topping Bare Noize (who also mixed Future:Dubstep:02), Rebel Sonix, Scott Nixon, RMS and Trimaxis.
Tracklisting:
CD1: Future:Dubstep:03 Mixed By MRK1
01. MRK1 – Skank Out VIP
02. Trimaxis – Generic Darkness
03. Ice Bluu – Extinction
04. Scott Nixon – March Of Tha Wee Men
05. Forensics – Endless (Wrexile Remix)
06. Fonzerelli – Dreamin' (Bare Noize Remix)
07. Ice Bluu – Two Sword Technique
08. Scott Nixon – Rock Out
09. RMS – Throwing E's
10. RMS – Bajads
11. Hatcha & Kromestar – Great Escape
12. MRK1 – Bossin It
13. Hatcha & Kromestar – Movin
14. MRK1 – Menace
15. Mind – Boundless Are
16. Rebel Sonix – Ankle Grinder
17. MRK1 – Turn Me On
18. Hatcha & Kromestar – Persi Needs
19. MRK1 – Last Drop
20. Rebel Sonix – Vodka Is Evil
21. Grisl – Who Is Kaiser Sozi
22. Future Dubstep 03: Mixed By MRK1 – Full length Continuous DJ Mix
Related Posts