Ibiza Anthems 2009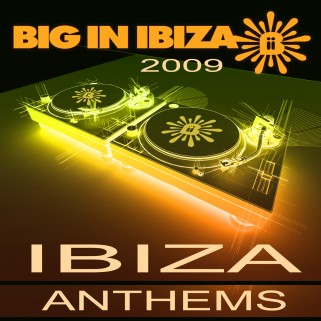 Hailing the return of Big In Ibiza to their White Isle homeland, BII unleash 20 of their biggest Balearic beats across 2 mixed CDs set to rock terraces, beach bars and clubs alike kicking off with THE record of the summer Fonzerelli "Dreamin" (Robbie Rivera's Remix)!
On hearing Fonzerelli for the first time Robbie insisted on remixing the record to spin to 8000 a week at his Juicy Ibiza event at Privilege and has delivered an absolute monster! Leading to the record smashing the DMC Buzz Chart this week at # 2 and the Cool Cuts at # 7 with the project drawing support from the biggest DJs in the world including Tiesto, Oakenfold, Markus Schulz, Bobina, Dave Dresden (Gabriel & Dresden) and many more.
Charlotte Narni marks her production debut with 'Fucking With The DJ' (a vocal that's a hit with DJs). Add to this Tito Puente Jnr ft India's classic 'Oye Como Va' expertly remixed by James 'Blakstar' John and tracks from Rachel Barton, Pierre Pienaar, Jonathan Ulysses, Filthy Rich and three new tracks from Chris MiMo.
To top it off the compilation also takes a trip back in time with Joey Musaphia's classic remix of Lizzy Mack "Don't Go" and Lance Ellington's Original NY Mix of "Lonely (Have We Lost Our Love)" as well as Big In Ibiza mixes of Clock's # 6 UK Chart anthem "Everybody", Jonny L's 'Hurt You So' and Organ Donor's Michaerl Jackson sampling monster '4 Tribes (Wanna Be Startin' Somethin')' that was massive for Carl Cox, Richie Hawtin & Sven Vath.
CD1
Mr Groove ft Corey Andrew – Connected (Beautiful Bar Mix)
Rachel Barton – Who Knows
Fonzerelli – Dreamin (Robbie Rivera Juicy Ibiza Mix)
Brazen 'What's Love' (Filip Le Frick Mix)
Tito Puente Jnr ft India 'Oye Como Va' (James 'Blakstar' John Remix)
Clock – Everybody (Big In Ibiza Mix)
Lizzy Mack – Don't Go (Joey Musaphia's Paradise Mix)
Lance Ellington – Lonely (Original NY Mix)
Chris MiMo – Airstrike (Big In Ibiza Mix)
Chris MiMo – Scorcher (Big In Ibiza Mix)
CD2
Chris MiMo – Purple People (Ant Brooks Mix)
BK 'Revolution' (Filip Le Frick Mix)
Organ Donors – 4 Tribes (Wanna Be Startin Somethin) (Big In Ibiza Mix)
Pierre Pienaar – If You're Not Here (Big In Ibiza Mix)
Chris MiMo – Dream Rush (Punch Exciters Remix)
Charlotte Narni – Fucking With The DJ (Big In Ibiza Electro Mix)
Love Assassins "Hurt You So" (Dub)
Ibiza Knights – Breathless (Tech Mix)
Filthy Rich – Music Is Moving (Big In Ibiza Mix)
Jonathan Ulysses & Peter Brown – Time (Peter Brown Mix)
Available to Download From Beatport
Available to Download from DJ Download
Available to download at Track it down
Available to Download at Itunes
Related Posts