Ibiza Opening Party mixed by Jonathan Ulysses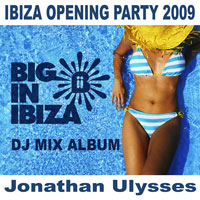 One DJ's name is synonymous with Ibiza and that is, Space resident, DJ Jonathan Ulysses. Jonathan's career has spanned over 15 years, seeing him spend over 10 of them as Space resident. He is undeniably The King of the Terrace, with his high energy, up-tempo, driving, electronic, pumping house style sets becoming legendary and always rocking dancefloors!
"The most deserving resident at Space" DJ Mag
"A bonafide first division house DJ" M8 Mag
To celebrate Jonathan's return to the White Isle and the beginning of the 2009 Ibiza season Big In Ibiza and Jonathan present the latest in their ever successful 'Ibiza Opening Party' mix series.
Ibiza opening party 2009 exclusively features Jonathan's newest production, 'Time', created with studio partner Peter Brown. The mix also features another 13 Ibiza Anthems, exclusive to this compilation, and which are sure to be big smashes over the forthcoming season. Including Filip Le Frick's remix of Brazen, 'What's Love' and Big In Ibiza's Tribal take on Charlotte Narni's 'Fucking With The DJ'. Fonzerelli also presents his newest piece in the form of 'Dreamin'', alongside Tim Andresen's 'Do Your Thang' and the Filthy Rich rework of the classic Fargetta anthem 'Music Is Movin'. Another classic to feature is the 2009 rework of BK's Revolution (the last ever vinyl only release to reach the UK top 40). The mix also features releases from some of dance's fastest rising stars in three tracks from Chris MiMo and another from Love Assassins. All still upfront these tracks are sure to hit high in the Cool Cuts, Buzz and Club Charts this summer.
Ibiza Opening Party 2009 showcases the current flavour of the White Isle, taking in classic house vibes, mixed in with forward thinking anthems. Consisting of various influences, this mix takes you on a journey with clever twists and cool production techniques that will keep you on your toes and excited for the full mix, the reason Jonathan is such an exciting DJ to watch.
Tracklisting:
01) Jonathan Ulysses & Peter Brown 'Time – Original Mix'
02) Brazen 'What's Love? – Filip Le Frick Dub'
03) Charlotte Narni 'Fucking With The DJ – Big In Ibiza Tribal Dub'
04) Fonzerelli 'Dreamin' – Big In Ibiza Dub'
05) Psyklon 'Beats & Pieces – Tribalizm Mix'
06) Chris MiMo 'Pick Me Up – Tim Andresen Remix'
07) Filthy Louca 'Believe In Me – Dub'
08) Tim Andresen 'Do Your Thang – Original Mix'
09) Chris MiMo 'Purple People – Original Mix'
10) Filthy Rich 'Music Is Moving – Original Mix'
11) Chris MiMo 'Bounce – Original Mix'
12) The Mitchell Project vs Ibiza Knights 'Alive – Terrace Dub'
13) Zed's Ded 'Pulp Fiction – Big In Ibiza Dub'
14) BK 'Revolution – Big In Ibiza Dub'
15) Jonathan Ulysses & Peter Brown 'Time – Peter Brown Rmx'
Available to Download at DJ Download
Available to Download at Juno
Available to Download at Beatport
Available to Download at Itunes

Related Posts