Jonathan Ulysses & Steve Haines – Brazillia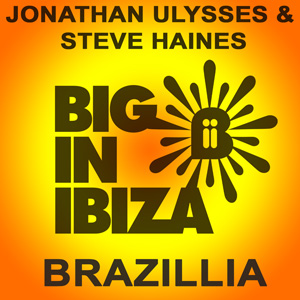 Download Jonathan Ulysses & Steve Haines – Brazillia from:
iTunes
Beatport
Trackitdown
Juno Download
Audiojelly
Amazon
DJ Download
The 2010 Ibiza season kicks off this week with Space resident and Ibiza legend Jonathan Ulysses at the helm. To celebrate his return to the White Isle and the Jonathan joins forces with Steve Haines for their huge terrace anthem "Brazillia", showcased on the "Ibiza Opening Party 2010" album mixed and compiled by Mr Ulybug himself.
Groundbreaking and bursting with innovation, no man personifies Ibiza more than Jonathan Ulysses and his sets as resident at the legendary club, Space have earned him the coveted title of 'King of the Terrace'. He is the people's favourite and guaranteed to get any club rocking with his unique brand of high energy, driving, pumping house music with soul.
"The most deserving resident at Space" DJ Mag
During his epic 15 year career including over a decade as resident at Space, Jonathan Ulysses has always put the people first giving them exactly what they need at every turn and has built up a huge following of supporters who come to him for a good time.
Connect with Jonathan Ulysses:
www.jonathanulysses.com
www.myspace.com/jonathanulysses
www.twitter.com/jonathanulysses
http://www.facebook.com/jonathan.ulysses
DJ/Producer Steve Haines has become one of the hottest emerging talents out of the UK, developing his sound which ranges from House and Progressive through to Techno. His hard work and dedication has resulted in support and recognition from some of the scenes leading artists including Paul Oakenfold, Laidback Luke, Kim Fai, Matt Darey, Jonathan Ulysses, Andy Cato, Paul Thomas and many more.
As a DJ Steve has gained recognition around the UK with residencies and guest sets at nights/venues including Godskitchen, Cream, Pukka Up, The Cross, Pacha and Heaven. As a producer Steve has been causing massive audio damage around the world with releases on labels including Baroque, Mango Alley, Le Club and What Happens as well as new releases and remixes planned on CR2 Records, Low Bit records, Baroque, Whartone, Inkfish, Michael Woods' Diffused music label and of course Big In Ibiza
Connect with Steve Haines:
http://www.myspace.com/djstevehaines
http://djstevehaines.co.uk/
http://www.facebook.com/stevehainesmusic
http://www.youtube.com/djstevehaines
http://twitter.com/djstevehaines
Related Posts