Love Assassins 'Just Fine'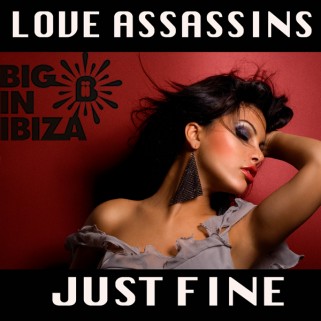 2008 has been the year of Big In Ibiza, building from strength to strength with their White Isle inspired beats and at the forefront of the wave of new home grown talent emerging from the label are Love Assassins.
Their debut single "Teardrops" set dance floors alight hitting # 1 in the DMC World Club Charts and # 2 in Music Week Club Charts and entering the Cool Cuts at # 15. Immediately drawing support from Jason Nevins, Tom Stephan, Jim Shaft Ryan, Jonathan Ulysses, ATFC, 7th Heaven, Nikki Elise (Kiss), EZ (Kiss), Kutski (Radio 1).
To top it off "Teardrops" featured on some of the biggest albums of the year including "Put Your Hands Up 1 & 2" [Ministry Of Sound], "Funky House Sessions" [Ministry Of Sound], "Big Tunes 2008" [Ministry Of Sound] & "Pure Garage Presents Pure Bassline" [Warners].
Second single "The Boy Is Mine" breathes life into The Architechs unofficial bootleg of
Brandy & Monica's R&B hit from 1998 which was and still is one of the biggest & most under represented garage anthems of all time. Fusing the Old Skool Garage vibes of the original, with Nu Skool House & Bassline, Love Assassins unleash more dancefloor mayhem.
Gaining early support from Wideboys, EZ, Matt Jam Lamont, Mark Doyle (Fierce Angel), K Klass, Des Paul (Capital FM), Michael & Chappers (Kiss Fridays) "The Boy Is Mine" found itself licensed across Europe and even Japan as well as on high profile albums including "The Very Best Of Pure Garage" [Warners].
Now for 2009 Head A&R man Dave Louca teams up with his crack team of studio misfits once more having remixed some of the biggest Ibiza anthems and established themselves as a force to be reckoned with their trademark contemporary big room sound that feels at home rocking main rooms, bars and beach sets alike.
"Just Fine" adds a new dimension to Mary J. Blige's Top 20 smash R&B sensation and sees Love Assassins showcasing another side of their production talents with a pumping vocal house anthem mix already a hit with 7th Heaven and looking set to become their killer third single. On the flip Joy n Pain fuses old skool organ bass garage with nu skool bassline sure to rock those floors that need it dirtier and PTP funks up the track with his own unique jazzy style.
Discography
Love Assassins "Teardrops"
Love Assassins "The Boy Is Mine"
Love Assassins "Just Fine"
Picotto vs Papini "Gonna Get Ya" (Love Assassins Remix)
The Angry Kids vs Bob Marley "Mr Brown" (Love Assassins Remix)
Connected ft Max'C "A Feeling" (Love Assassins Remix)
Tito Puente Jnr ft India "Oye Como Va" (Love Assassins Remix)
Fonzerelli "Infinity" (Love Assassins Remix)
7th Heaven "Music" (Love Assassins Remix)
Ibiza Knights "(Feels So) Good To Be Alive" (Love Assassins Remix)
Filthy Louca "All Alone" (Love Assassins Mixes)
Filthy Louca "Believe In Me"
Available to Download:
Track it down
DJ Download
Juno
Beatport
Itunes
Related Posts