Mauro Picotto Presents Meganite 2009
Having started out as a dream in Mauro Picotto's ever expanding mind, it wasn't long before the over-zealous production aesthetics, surroundings and aural desires of Meganite soon became a reality for the Italian tech-trance prodigy.
Launched in 2004 as a mid-weekly event at Privilege, Meganite "electronic music lifestyle" gained instant kudos, becoming the talk of the white isle and all that flocked to it, packing out the dancefloors of the world's largest nightclub every week. It was Mauro's never-ending passion and dedication for taking inspiration from his various global adventures and experiences from different cultures, injecting all the worldly goodness onto one dancefloor that made Meganite such a resounding success, providing an innovative atmosphere for all those wanting to experience something unique.
This year sees Meganite open its doors for its sixth and biggest year yet. Promoted in Ibiza by the infamous 'Richard' and The Freaks Team of Meganite and held at the newly refurbished Privilege, complete with new sound and lighting system, huge visual displays, new layout and fantastic DJ booth, Meganite is really set to ignite!
Despite talk of the global economical crisis, Mauro is making sure no expense is spared when it comes to his baby, with the night having its own exclusive décor and design, not to mention some of the hottest line-ups on the isle. Each Wednesday will see Mauro and guests such as Adam Beyer, Josh Wink, Steve Rachmad, Exercise One Live, Marco Carola, Polder Live, Anja Schneider, Paco Osuna, Technasia Live, Mark Broom, Wighnomy Brothers, Hugo, 2000andOne, Lutzenkirchen Live, Christian Smith, Paul Ritch live pumping out the best in techno, house and sultry grooves to the purist music crown, in an environment that resembles a hi-tech cave open to all genres and subgenres of the clubbing sound.
Order on Double CD from Amazon
Download from iTunes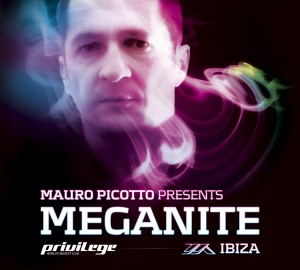 Related Posts