Paul Morrell & Katherine Ellis ft Dan W – No Trouble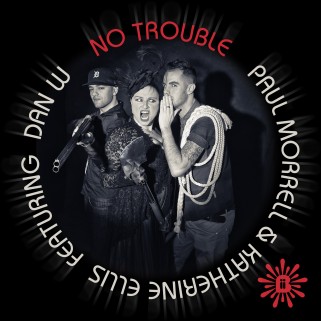 Download From:
iTunes
Beatport
Juno Download
Trackitdown
Big In Ibiza would like to announce the signing of a fantastic new single package from Paul Morrell & Katherine Ellis ft Dan W.
UK DJ/Producer Paul Morrell smashes out another huge collaboration with one of the all-time dance diva greats Katherine Ellis and one to watch, up-coming Coventry rapper Dan W. Classic ravey piano builds, huge electro drops, enormous soulful vocals, feel good lyrics and an amazing collection of house, dance, hard house, progressive and dubstep mixes including contributions from the likes of Hoxton Whores, Scott Attrill, Vibeizm, MNVI & Let's Press Go!!
Paul Morrell has worked with some of the biggest names in the scene and has topped the UK dance charts with the huge club anthem "Give Me Love" featuring former Sugababe Mutya Buena. Combing this with the talents of Katherine Ellis, a powerful singer responsible for providing vocals on some of the biggest hits in the last 10 years of dance including Freemasons – When You Touch Me and Roger Sanchez – Lost. Also featured on this release is the north's finest grime MC, Dan W. Having toured with the likes of N-Dubz, Tinie Tempah, Pro Green, Ironik, Agro Santos, Giggs and more this collaboration equates to one of the biggest teams of the year.
Release date = 21st May 2012
Tracklist:
1) Paul Morrell & Katherine Ellis ft Dan W – No Trouble (Original Mix)
2) Paul Morrell & Katherine Ellis ft Dan W – No Trouble (Hoxton Whores Remix)
3) Paul Morrell & Katherine Ellis ft Dan W – No Trouble (Scott Attrill Remix)
4) Paul Morrell & Katherine Ellis ft Dan W – No Trouble (Vibeizm Remix)
5) Paul Morrell & Katherine Ellis ft Dan W – No Trouble (MNVI Remix)
6) Paul Morrell & Katherine Ellis ft Dan W – No Trouble (Let's Press Go Remix)
7) Paul Morrell & Katherine Ellis ft Dan W – No Trouble (Radio Edit)
Useful links:
Paul Morrell on Facebook and Twitter
Katherine Ellis on Facebook and Twitter
Dan W on Facebook and Twitter
Hoxton Whores on Facebook and Twitter
Scott Attrill on Facebook
Vibeizm on Facebook and Twitter
MNVI on Facebook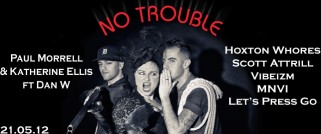 Biographies:
Paul Morrell:
As a DJ Paul Morrell has filled dancefloors for just over a decade and in which time has graced the turntables at some of the nations most proliffic nightclubs,parties and underground venues. Morrell holds the prestigious accolade of being one of the few DJs to have performed in every room at the world renowned 'Ministry of Sound' club in London UK. As well as this, Paul has performed for Gatecrasher, Cream, Polysexual, Tidy, Atomik & Judgement Sunday in Ibiza, and is a regular face at The Gallery in London & Passion in Coalville. He regularly works with dance music Royalty and has performed on the same bill as artists such as Armin Van Buuren, Sander Van Doorn, Paul Oakenfold, Mauro Picotto and Paul Van Dyk to name just a few.
In January 2010 Paul Morrell was honoured by Ministry of Sound at The Gallerys annual awards, at which he won the award for "Best Breakthrough Artist of 2009", fighting off competition from other UK based artists, and putting him on the winners board with the likes ofArmin Van Buuren, Sander Van Doorn & Judge Jules.
As a producer & Remixer, Paul has worked with artists from across the dance music spectrum – from that of hard dance & trance icons such as Oakenfold, Judge Jules, Lisa Lashes, Stimulator, BK & AnneSavage, to commercial dance 'A' Listers Mutya Buena (formerly ofSugababes), Sonique, Aggro Santos, Lisa Maffia, Katherine Ellis (Freemasons), Utah Saints & KKlass. His work has been supported by major radio DJs including BBC Radio 1's Scott Mills, Judge Jules, Kutski, Dave Pearce & Eddie Halliwell, as well as on Paul Van Dyk's 'SoundGarten' show in Germany & Riley & Durants Capitol dance show. His production "Lights off" received Judge Jules' prestigious "Tried& Tested" accolade for an impressive 3 weeks in a row, and "Give Me Love" featuring the vocals of Mutya Buena charted at Number 2 in the UK Dance chart in 2011.
Most recently Pauls remix of "What can you do for me" for Utah Saints, has featured on the new Ministry of Sound "Running Trax Gold" album, and has gained mass support from all countries.
Katherine Ellis:
Katherine Ellis is one of the most respected and versatile vocalists and topline writers in the industry today. She currently performs extensively throughout the World with her vast back catalogue including the huge club hits 'When you touch me' with The Freemasons, 'Lost' by Roger Sanchez and 'Dreaming' by The Ruff Driverz, Hed Kandi anthems 'Let The Beat Hit 'Em' and 'Stand Up' as well as 'Love U More' by Oxford Hustlers' released by Fierce Angel.
From 1997 to 2000 Katherine was the vocalist for chart toppers The Ruff Driverz, singing 'Deeper Love', 'Don't Stop', 'Shame' and the monster smash 'Dreaming', which she also wrote the Spanish topline for. In 2009, Maelstrom re-released the track with a host of new mixes.
Much of 2010 was spent touring and performing across Europe, Russia and Australia. December was the busiest month of the year with gigs in Russia, Kazakstahn, New Zealand and Australia where she performed alongside The Freemasons, Stonebridge and Mark Doyle. Other notable performances included Manchester Pride for the second consecutive year and her 'Put it on' event in London in association with GaydarRadio that raised several thousand pouds for HIV charities. It was also a busy year for collaborations and in between her travelling she managed to work on some exciting new projects with Bimbo Jones, Damian Strong, John Shelvin and ?. The track 'All you need' with Juan Kidd & Felix Baumgartner was put out Subliminal Records in late December.
2009 was also another busy year touring, she completed a tour of Australia with The Freemasons, which culminated in a headline performance at the Sydney Mardi Gras. She was also involved with and performed at the launch party of The Freemasons' album, Shakedown 2 and joined them again for an appearance at Manchester Pride. She also performed at the opening party for the Ministry of Sound in New York, Salvation in Moscow as well as London, Soho, Brighton, Blackpool and Torquay Pride festivals. 'You're mine' with Solitaire and 'Time 2 Play' with Soulshaker were Katherine's two big releases of the year.
2008 was an extremely busy year for Katherine, with releases including 'When You Touch Me' with The Freemasons, a cover of "Ain't Nothin Goin' On But The Rent" with 7th Heaven, "Poza (Got What I need)" with Countparis, "Do it" with DJ Prom, "Gotta get Through" with Paul Emanuel & Gav McCall, "One Luv" with The Soul Avengerz and "Laisser Toucher" with Cerrone, which also features twice in the French movie 'Disco!'
Katherine also performed over 60 live shows in 2008 including The TMF Awards in Antwerp that was broadcast to some 60 million people, the Graham Norton Show on BBC TV and NRJ in the Park, Belgium to 50,000 people. She has performed in countless Russian super clubs such as Dyagilev, Most, Rai and Opera. Equally at home with smaller crowds Katherine is frequently hired for private parties and Restaurant openings, a Promoter in Kiev observed that 'Katherine brings the Party, she is the Party'. As well as performing her Club PAs Katherine is also a celebrated jazz, blues and soul vocalist with a full repertoire of over 200 well-known standards. Accompanied by a pianist Katherine will give you an intimate unforgettable night taking you through the full range of emotions from laughter to tears.
She has worked with some of the biggest names in music including The Freemasons, The Soul Avengerz, Dave Lee (in all his guises!) & Roger Sanchez, and on a more underground tip, collaborations with Meat Katie, Dylan Rhymes, Lee Coombs and Tom Stephan. Katherine's touring credits include that of working with the likes of Belinda Carlisle, Chaka Khan, Boy George and Roger Sanchez.
Dan W:
Dan-W has always had his own unique style of hip-hop music with his very clear British accent on his tracks he was always going to be set apart from a lot of other artists making urban music, he has an amazing delivery and a creative way with words. He hads a pop / dance blend to his music but since he raps he will always get put into the rap / hip-hop category aswell. So Dan's music is came to be called Hip-Pop by many of his listeners and to this day it seems to be working for him.
Dan has performed at many shows up and down the country to small crowds and to attendances of 10,000+. Dan as done shows like club performances nationwide to even getting on the main stage at bigger festivals. He has headlined his own shows but has recently started supporting number of mainstream acts including artists like, Tinie Tempah, N-Dubz, Professor Green, Giggs, Lethal B, Akala, Fugative, Griminal, Ironik, Aggro Santos and many more.
Early 2011 Dan's mixtape called "Status Update" was nominated for "Best Hip-Hop Mixtape 2010" by the Official Mixtape Awards. It was released May 2010 and after a promotion complain on UStream, Twitter and Facebook it had over a 100 downloads within the first minute of release. Then over 1000 downloads within the first hour, to this day it has 20,000 plus downloads.
Dan-W is still only at the start of his music career with loads more music on the way expect to hear the phase "Dan Who? Dan-W" alot more.
Hoxton Whores:
The Hoxton Whores are the UK's electronic-musical equivalent to the Union Jack. Having toured extensively across all the major continents and far corners beyond, they unequivocally boast an energetic, positive and responsive progressive dance sound, which has seen them collaborate and remix an A-Z of the world's best artists including the likes of Deep Dish, Robbie Rivera, Faithless, Moloko, Danny Howells, Bass Kleph, Celeda, Tocadisco plus many many more. Over the past decade they've owned the Beatport & download charts whilst embarking on a round trip to stamp the world with their WhoreHouse sound rocking dancefloors worldwide with their consistent and massive studio output.
Their WhoreHouse Recordings label has recently gone from strength to strength, not only with numerous top 10 hits on digital download sites such as Beatport, DJ Download, Traxsource and Xpressbeats, but by also providing a stepping stone for the Hoxtons to license tracks on to major labels such as MOS, Universal, Azuli, Toolroom, We Play, Hed Kandi and Manifesto to name a few. In the coming months they have some very strong releases coming up including tracks from Paul Harris, Stafford Brothers, Angie Brown, Micky Slim, Seany B and the Rising High Collective.
A relentless DJ schedule is seeing Hoxton Whores tours reach Brazil, Argentina, Canada, Australia, Asia, Dubai, South Africa and every major city in between with big Hoxton releases lined up on Missspelt/Toolroom, Subliminal, Ministry of Sound, CR2, Stealth, Phonetic, We Play and more.. 2010 sees the Hoxtons really take it up a level release wise with some mammoth projects in the pipeline stirring interest from majors.
A hugely successful 2009 saw the Hoxtons 'Devil Toy' project hit Number One on the Beatport & DJ Download charts simultaneously keeping at the top spot during Miami WMC and Top 15 again at the end of the year in the Beatport Bestsellers. With Beatport crediting as a, "proven hit essential for all electronic DJs and fans" the track was promptly signed to Toolroom/Missspelt licensed to a huge amount of compilations. The project is now lined up for a major release this year from the Toolroom camp with full vocals from Angie Brown & Trix plus a video.
Scott Attrill:
Over the past two years Scott Attrill has quite simply taken Dance Music by storm! Two acclaimed artist albums in two years, 'Bass Junkie' and 'Mega' have helped establish him as one of the worlds finest DJ's with 'Mega' being hailed as the "Best harder dance album of the year" 2009 by scene bible Mixmag. His tracks are also played on an almost weekly basis by scene leader 'Kutski' on BBC Radio 1 with his smash remix of Sidney Samson's 'Shut up & Let It go' aired on the stations peak daytime shows.
He also mixed this years 'Soundtrack of the summer' that was 'Riot! In Ibiza 2010', another album that also scooped the 'Album of the month' accolade from Mixmag. Scott's following is growing at pace, consistently touring the world's biggest clubs and playing huge festival events and this looks to continue, as Scott recently became the first DJ in the world to have tracks featured to play on the hit computer game 'Rock Band' .
The forthcoming artist album concept of 'Noize' showcases his brand new 'Hard Electrik' sound that he has pioneered over the past year or so, a fusion of electro, techno, trance & hard dance that is literally so fresh, it is no surprise Scott Attrill is receiving so much praise & attention…
Vibeizm:
Combining to form the dubstep and electro powerhouse collective known as Vibeizm, Leeds based DJ Alex Street and Nukleuz, Big In Ibiza & BassDeVision in-house producer Josh McInnes came together for the first time in January 2012. After dropping some killer original dubplates and outstanding remixes for the likes of Coven, MC Flipside, Paul Morrell, Jen Lasher, Sporty-O and more, producer Josh McInnes and DJ Alex Street teamed up to create the ultimate recorded and live experience for their fans taking the Vibeizm act to a whole new level. With much more to come in 2012, be sure to keep an eye on this fast emerging act.
Born in 1991, with years of DJing experience under his belt, Alex Street has DJ'd across the UK and played at some of the craziest clubs on the Ibiza shores. Currently a resident of The Warehouse, Leeds and the 1,000+ capacity White Noise, Cambridge, Alex is known for his high energy sets combining floor filing smashers with the hottest upcoming productions from some of the lesser known producers in the scene. Spinning a mixture of Dubstep, DnB, Future Garage and Electro in his sets, the club comes alive with a mixture of musical styles aimed to lift the roof and give the punters an unforgettable experience. Renowned for his mixing and mash-up abilities, Alex soon found himself a key contributor to the Vibeizm project, teaming with the mighty Josh McInnes in early 2012. Production prodigy Josh exploded onto the UK Hardcore scene in 2004 when his "Cilit Bang" release charted at #3 in the BBC Indie chart. Subsequently snapped up by Nukleuz Records, he later replaced Tom Neville as Nukleuz and Big In Ibiza's in-house engineer and operating under the pseudonyms JAKAZiD, Cut & Splice and Joshkovsky, multi-talented Josh turned his hand to the production of Dubstep in 2009 after hundreds of house, electro and UK hardcore releases.
With releases on Big In Ibiza, BassDeVision, Play Me Too Records, 2 Much Bass Records & LU10 Records and production support championed from the likes of Toddla T, Kissy Sell Out, Hatcha, Dubba Jonny, MRK1, Koven, Robdabank, Lost, Jakes, Quartus Saul, TBMA, Hellfire Machina, Reid Speed, Tim Ismag, Dirt Monkey, Maksim MC, DarkElixir, Metaphase, Cotti, Phrenik, We Bang, Enigma Dubz, J:Kenzo, MC Flipside, Wonkap, Inja, ANiMAL, DJ Allbury (RinseFM), Oblivion, Obsidian, Refix, Baconisonfire (FilthFM), Event Horizon (FilthFM) and many more, the Vibeizm boys are turning some heads and much more is just round the corner!
MNVI:
MNVi started making music at a young age. Putting his years of knowledge in creating music/producing, things soon stepped up. MNVI was producing dancefloor smashing tracks with hi impact. Over the past few years there has been a few influences that have driven MNVI into producing a new level house and progressive house. Within the space of a few months Mark had several remix's under his belt under the alias as Rawdirt (Group) , including names such as Thomas Gold, Ian Carey, Paul Morrell, Mutya Buena, Utah Saints and Sonique. For various brands including Ministry of Sound & Maelstrom
Over summer 2011 MNVI set himself up in IBIZA for what turned out to be a very productive few months. These few months proved to be very successful for MNVI meeting new music minded individuals and teaming up with various producers and DJ's. Every day bought new people and new ideas to the table and eventualy a vocal EP was formed, Featuring the vocal talents of Katherine Amy and a collab track with Ibiza resident AMC.
MNVI also has a passion for DJing. With years of experience behind him on the decks, he has performed in front of large crowds alongside names such as Judge Jules, Sonique, Hoxton Whores, Micky Slim, Lisa Lashes, Jon O'Bir, Ronski Speed to name a few.
MNVI has recently completed 3 new remix's for Paul Morrell, Katherine Ellis and Sonique, and is also due to remix 3 of Soniques big hits from the 90's.
Keep an ear out for new catchy big house tracks over the coming months!
Let's Press Go:
Nominated for best newcomer in the 2005 house music awards alongside Dutch sensations Hardsoul and eventual winners the Shapeshifters, Grant Richards, as one of Kinky Malinki's biggest DJs has travelled the globe taking the kinky vibes to destinations as far flung as Jakarta, Singapore and Egypt's Pacha and has played a pivotal role in compiling and mixing the Kinky Malinki compilation series. Now joined by H&H SoulSurvivors, house DJ/Producer duo with remixes for the likes of Beyoncé, Dizzee Rascal, Mica Paris, Ultra Naté, Vanessa Hudgens, Shena and a number of X-Factor finalists, the trio look to launch their new guise Let's Press Go and begin with this catchy, lush deep house release "Sex & Drugs & Alcohol" on Big In Ibiza. Catchy piano riffs and vocals with smooth deep house drops and grooves.
Download From:
iTunes
Beatport
Juno Download
Trackitdown
Related Posts