Sporty-O & Lasher – Gotta Be Big (Out 17th Oct – PRE-ORDER NOW)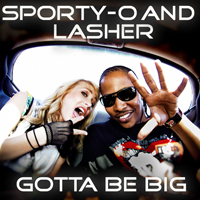 Two highly respected turntablists and rappers, Sporty-O & Jen Lasher join forces with the team at Big In Ibiza to re-invent 'Gotta Be Big'. Hailing from Atlanta and Baltimore the dynamic duo have become two of America's best loved electronic artists. They constantly tour and play cool parties all over the USA and have dropped collaborations with the likes of Stanton Warriors, Aquasky, Deekline, Body Snatchers, Krafty Kuts, Oh Snap!!!, Ed Solo, Tommy Sunshine and more.
The release is accompanied by the hot new Cut & Splice and Vibeizm dubs fresh out of London, UK – adding both a House and Dubstep smasher to the single.
1) GOTTA BE BIG (RADIO EDIT)
2) GOTTA BE BIG (ORIGINAL MIX)
3) GOTTA BE BIG (CUT & SPLICE'S PHATT REMIX)
4) GOTTA BE BIG (VIBEIZM REMIX)
http://twitter.com/sportyoatlanta
http://www.myspace.com/sportyo
http://www.myspace.com/jenlasher
www.cutandsplice.info
www.myspace.com/vibeizm
Related Posts