Ellenyi – Biography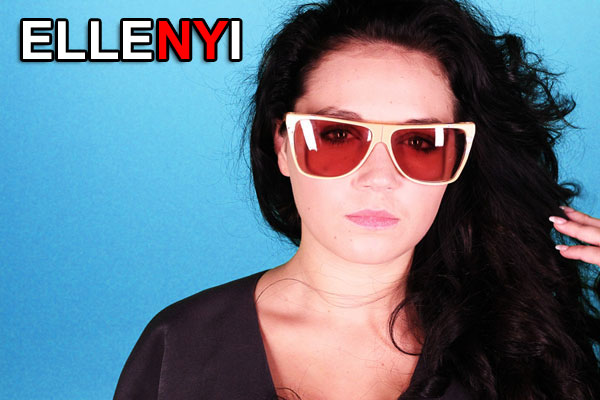 Ellenyi is a new, exciting female singer-songwriter with the voice of an angel who requires no autotune and sounds as good on a record as on the stage. Drawing on her strong technical ability and broad range of influences, Ellenyi is able to sing any song given to her as well as write and perform across genres. Early influences to Ellenyi's writing style stem back to Motown legends such as Ray Charles, Aretha Franklin, Nina Simone, Marvin Gaye, Billie Holiday and Al Green as well as current artists such as Adele, Duffy, James Morrison, Jamie Cullum.
More recently Ellenyi has embraced her electronic side, she contacted the producer behind the prolific Fonzerelli act, Aaron McClelland via her MySpace profile in 2009 and instantly found a true fan. This quickly expanded to Fonzerelli's record company, Big In Ibiza and the virtual transfer of creative ideas began. It quickly became evident that Ellenyi had imaginative songwriting skills as well as a beautiful voice as she contributed ideas to a diverse range of musical styles including the cutting edge street sound of Dubstep. Ellenyi has breathed new life into Fonzerelli's massive international club classic "Moonlight Party", a track that had previously only had a chorus.
2010 also saw Ellenyi form a band that has been gigging across the north of England picking up a lot of bookings and receiving fantastic feedback. Performing at countless live events, Ellenyi has been growing as an artist and developing a strong relationship with her fans with every show.
This summer will see the release of the new version of Moonlight Party and the continued development of her band, the recording of a solo electronic album and further collaborations with Fonzerelli.
From the day she was born, the microphone is something that has been a part of Georgia Harrup aka Ellenyi. Coming from a musical family helped Georgia to develop her own vocal style at an early age and by 14 she was writing and producing her own songs, completing two albums by 2005, "Ain't All For Nothing" and "Sweet Music". Growing up in a church environment meant that Gospel music influenced Ellenyi heavily, which is where she learnt to harmonize and pitch, write and experiment by ear.
"I have sung with a hairbrush, a cucumber, a carrot and a pen and always practiced where I could!"
Singing since the age of 4, Georgia wrote her first three line song at the age of 5 alongside her Dad and sang on her first studio album aged 9, a children's album entitled "Giant Killers" before going on to be top of her class in music at school and winning various music contests and conventions.
"Having the ability to sing whatever I wanted to come out of my mouth helped me breath and find the space to grow and become a stronger person through experiences."
Her passion for singing really comes through in her vocal performances and is a pure natural talent as an artist and prolific songwriter. Her talent may even run in the family blood as Georgia's cousin is the Grammy Award winning artist Adele ("Chasing Pavements") and her Dad has played with the likes of Jimmi Hendrix and Manfred Mann.
"My mum used to say to me that whenever I was nervous to imagine the audience as cabbages sat in the vegetable row and it always helped me conquer nerves which eventually became non existent as time went on."
When Georgia is not writing or singing, she can be found shopping with her sisters, watching the rugby and is totally addicted to Top Gear! Which might explain why she likes fast cars and motorbikes, including her own 125cc with pink leathers! She also has tattoos that seem to generate interest from a lot of people!
ELLENYI (Definition) "A ray of shining light".
For more information on Ellenyi click here:
http://biginibiza.com/tag/ellenyi/
Connect with Ellenyi:
http://www.ellenyi.com
http://twitter.com/ellenyiofficial
http://www.myspace.com/ellenyi
http://www.facebook.com/elenyi
http://www.youtube.com/ellenyiofficial
Facebook Group: http://www.facebook.com/group.php?gid=122582957773790&ref=mf
Facebook Fan Page: http://www.facebook.com/pages/Ellenyi/129420790403553
Related Posts