Oh Snap!! & Jen Lasher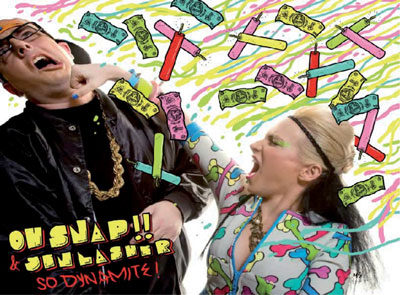 Oh Snap! & Jen Lasher are an act we're very excited about having on Big In Ibiza. Hailing from Baltimore, home of The Wire and the Baltimore Hip Hop sound with Jen Lasher and OH SNAP!! are major artists in the scene and are now collaborating on a debut album. Both are taking time off from an extremely busy recording and DJing schedule to create more edgy party hip house / urban dance hybrid mayhem kicking off with the first single "So Dynamite" signed to One Love (Sony) in Australia and 2012 A&R/Publishing/EMI the label behind Shiny Toy Guns (remix album coming on Ultra) as well as Big In Ibiza in the UK and is already proving to be a smash gaining early support on Radio 1 on Kissy Sell Out's show. Watch out for more from this hot and talented dynamic duo in 2010! In the meantime, here is more about the double act in their own words…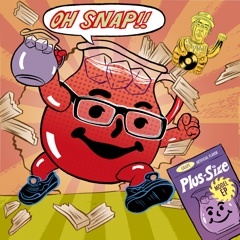 "All Pitcher Man, better known as the Kool Aid Guy, ever knew how to say was "Oh Yeah!" and bust right thru someone's wall… He went through his entire life only knowing those two words, not even knowing what they meant & why he always had to blast thru a wall… One day, while visiting Baltimore, bringing cool refreshment to the peoples, he crashed through the wall, right next to the door, in a corner store. Before he could utter those 2 words, he looked up and saw the most beautiful pitcher of water he had ever seen. This is when he realized he had met the love of his life… For days, they made sweet Strawberry love and sometimes Watermelon, and all he could say was, "Oh Yeah!"… 9 months later, twin packets were born. Sadly, the love of his life died during childbirth. His little grape and little cherry were sent to separate orphanages because, unfortunately, all Kool Aid could say in court was "Oh Yeah!" and was deemed an unfit parent… These two, gifted children went on for many years without knowing the other's identity, both keeping it real, hustling, getting money, being fly, and for some reason, only ever drinking Kool Aid… Never knowing that somewhere out there the other ½ of them existed. With the love of Kool Aid, the Universe, and funky cluuub beatz, these lost souls finally were reunited and began making music (and Kool Aid) destined to bring world peace, end famine, halt the recession, and help Angelina finally adopt the village she's been wanting… The Kool Aid Krew, following litigation issues with the makers of Kool Aid, have decided to go by their real names, Oh Snap!! & Jen Lasher , as they unleash "So Dynamite" on the world… Bustin' down walls and making everyone say Oh Yeah!!! Simply because they GO BOOM!"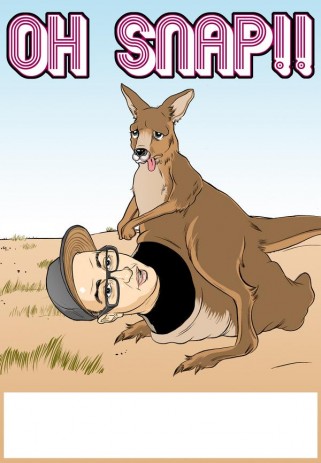 "Who is OH SNAP!!?, What is OH SNAP!!?, and mostly, Why is OH SNAP!!? These questions could take a lifetime to answer. A self-professed check-to-check millionaire and inventor of the Fab-U-Fly lifestyle, OH SNAP!! is everything that is right, and wrong with society. Not really a DJ, and not really a rapper, as both imply talent, OH SNAP!! is trying to conquer the world with his average looks, average flow, and his "you might like him, you might not like him" personality. Raised on gangster hip-hop in the suburbs of Maryland, OH SNAP!! has lived the vicarious hustler lifestyle through many of hip-hop's greats including 50 Cent, Biggie, MC Ren, Ice Cube, Eazy E, Dre, and that other guy from NWA, I can't remember his name though. In the past few years, OH SNAP!! has seen society plunge into a deep depression and as a Buddhist, OH SNAP!! has decided to try to cheer the world up through music. If there was only one word to describe OH SNAP!!, excluding all words SNAP!! can't spell or understand, the word would he HAPPY. OH SNAP!!'s mission in life is to make people happy while partying their collective bootays off. OH SNAP!!'s hobbies include: being fresh, keeping it real, poppin' AND lockin', hustlin', and writing haikus."
http://www.myspace.com/daworldfamousohsnap
http://www.twitter.com/ohsnapmusic
"One night, in her hometown of Washington, DC, Jen Lasher, a young girl at the time had the musical spark ignited within her by classical music and then later by a new type of musical gathering where she quickly fell in love. She experienced for the first time a symbiosis of lights, rhythmic music, and a pulsating crowd driven by the universal consciousness that quickly became a part of her. This intoxicating sound consumed the young musician with a fresh understanding and deeper passion for music.
After seeing many DJ performances from a dancer's perspective, Jen quickly realized that she belonged behind the decks landing her first residency at club Sonar in Baltimore. As a result of her early DJ travels Jen Lasher developed a deep friendship w/ DJ Icey and Baby Anne. They encouraged Jen to pursue her dream of making music by supporting her on tour, working with her in the studio, and inviting her to join Icey's label Zone Records Inc. She and Baby Anne had a billboard-charted CD of their own, "Assault and Battery," on System Recordings which included Jen's driving Industrial influenced single "No More Tears." This led to work with Glitch and Tommie Sunshine and ultimately Oh Snap!!
"A top notch turntablist." Benjamin Leatherman – New Times, AZ
"D.C.'s Princess of Darkness" Mary Morris- Remix Magazine
"Lasher's vocal synthpop mix bears and industrial slant, will quickly become the guilty pleasure of any electro snob." Jen Boyles – URB Mag
Jen has made quite a stride becoming one of America's most beloved electronic artists. With her unique style both in appearance and live vocal performance/DJ Sets she continuously shows that she is a step up on the competition guaranteed to make the crowds lose control and fall in love w/ her at the same time. Put this all together and you have something that the whole world can, and soon will love."
http://www.jenlasher.com
http://www.myspace.com/jenlasher
Oh Snap!! & Jen Lasher "So Dynamite" is out now!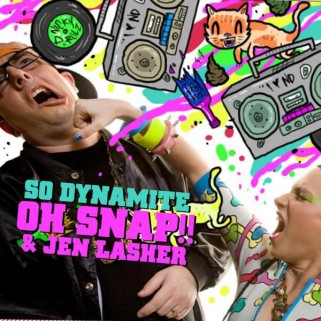 Related Posts