The Str8jackets ft MC Chickaboo – Biography
WELCOME TO THE ASYLUM!
MC Chickaboo, the award winning UK's number one female MC teams up with The Str8jackets following collaborations with Timo Maas and Rennie Pilgrem for an insane urban dance, hip-hop hybrid sound that is already causing havoc in the clubs and on the blogs due to the killer new single "Move & Rock".
MC CHICKABOO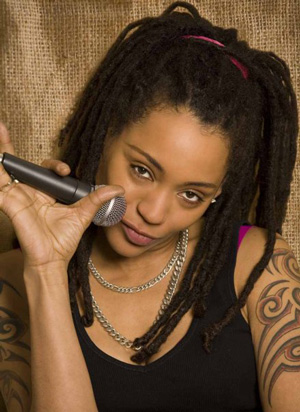 MC Chickaboo, started out in Birmingham in 1992 with GE Real working the big raves such as Fantasia, Dreamscape and Jungle Fever MC'ing with some of the best DJS around, including DJ Dazee, DJ Craze, Jumpin Jack Frost, DJ Storm, DJ Bailey, Goldie and the legendary Afrika Bambaata.
Chickaboo then exploded into the BreakBeat scene and before long was working with and performing alongside the likes of Timo Maas, Rennie Pilgrem, General Midi, Suda (Faithless), Prodigy and SuperStyle Deluxe and in fact became the lead vocalist for Rennie Pilgrem's band TCR Allstars where she smashed the likes of Glade Festival, Glastonbury and Fabric.
In fact it was with Rennie Pilgrem and BLIM that MC Chickaboo won the "Best Song" at Breakspoll 2006 for "2 Freaks" and even more impressively her massive collaboration with collaboration with Timo Maas "Shifter" (http://www.youtube.com/watch?v=7KgwBR62Kds) hit number 1 in the MTV UK Charts and USA No 1 Billboard charts.
MC Chickaboo currently runs her own party Tatty Bogle which took over from her Batty Bass parties in East London, a funky party which delivers equal measures of funk and craziness!
Connect with MC Chickaboo
Facebook
MySpace
Twitter
THE STR8JACKETS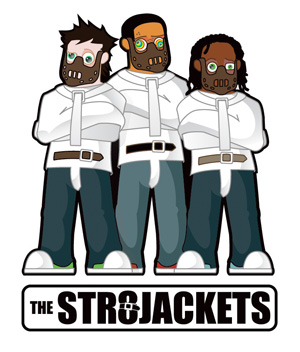 Made up of London based trio Mark Robinson (Peppermint Jam UK), Dave Longmore and Phil Fearon, The Str8jackets had their first major recognition courtesy of Pete Tong, playing their bootleg remix of the Black Eyed Peas' 'Boom Boom Pow' and then spinning their 'Whats it All About?' record twice on the Essential Selection.
As producers The Str8jackets have notched up an impressive string of remixes for the likes of Kim English, Hoxton Whores, Bassmonkeys, Lucien Foort, Jaykay (Belfast Kiss) and Richie Dan (Call It Fate) with releases on Time Records, Big In Ibiza, CR2, Peppermint Jam, and Nervous NYC. The Str8jackets have collaborated with the likes of Ini Kamoze, Katherine Ellis, Inaya Day, Tyree Cooper, MC Chickaboo, and Missy Mak with more coming.
Phil is no stranger to crossover success with a string of Top 10 Chart hits under his belt in the 80's with his group 'Galaxy ('Dancin Tight' a highlight reaching No 4)' as well as writing & performing with legendary 80's hit machine Stock, Aitken & Waterman. In the 90's Phil set up the mighty D&B / Breaks label, 'Production House' where he was instrumental in breaking Baby D who hit # 1 with 'Let Me Be Your Fantasy'.
Dave (aka Leggz) first made his mark working as part of the highly respected UK Garage production outfit, Ruff N Tumble. Their first single, 'I'll Give You More' featuring Taka Boom catapulted the guys onto the forefront of the scene where they remixed artists such as Shola Ama, Sweetie Irie and Ultra Nate. International DJ bookings followed along with summer residencies in Ayia Napa and Barbados along with regular appearances at superclub Gatecrasher and legendary Midlands club, Progress.
Mark first got into the business running his own Record Store in London and hosting the prime time show on Pioneering London Pirate Radio station, 'Girls FM'. He toured the UK playing at Ministry of Sound, Turnmills, Club UK, The Cross, The Coliseum, Bagleys and touring with Kinky Malinki. Mark then set up the UK's first completely Live Internet Radio Station, Soho Live. It was here that he met Mousse T and Simon Marlin from infamous German Label, Peppermint Jam who subsequently asked Mark to join the PJ team. 7 Years on Mark is now heading up A&R and UK operations for PJ and is a resident DJ for their 'Hint of Mint' parties.
Connect with The Str8jackets
www.thestr8jackets.com
Facebook
MySpace
Twitter
Related Posts