CiRcOloCo @ Matter 02 NYD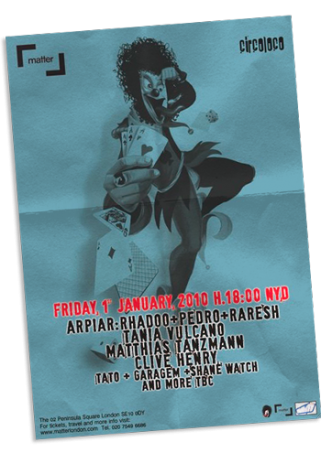 CiRcOloCo are set to return to London with a New Year's Day extravaganza at Matter O2 that should see them kick off 2010 in the same vein as this year, with a line up featuring Raresh, Petre Inspirescu and Rhadoo playing a back-to-back-to-back set in the night's headlining slot.
DC-10 residents Tania Vulcano, Matthias Tanzmann and ex-Peace Divisioner Clive Henry will all make appearances, while their regular London resident Shane Watcha will also get a chance to spin.
Over in room two things will be on a slightly deeper tip thank to Uhmm, with Dyed Soundorm topping the bill while Tato, Garagem and Tom King will provide support.

Room 1 CiRcOloCo
A:RPIA.R (Rhadoo:Pedro:Raresh)
Tania Vulcano
Matthias Tanzmann
Clive Henry
Shane Watcha
Room 2 UHMM
Dyed Soundorom
Tato
Garagem
Tom King
Related Posts