Fish Don't Dance NYE @ The Tabernacle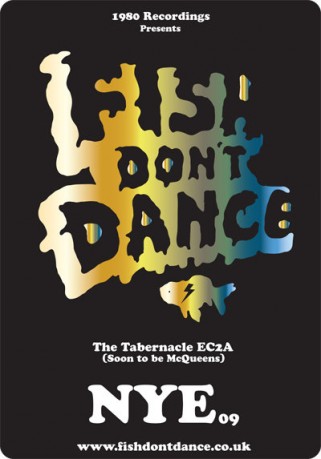 Expect Fun and enjoyment as Fish Don't Dance come together with a host of DJs and live bands to bring in 2010 in style. There is even rumours of a very special guest turning up, so keep your eyes and ears out for the latest news on this event.
Tickets are available exclusively from Resident Advisor and it'll be a whole lot more on the door, so make sure you book in advance to ensure your New Years Eve goes down with a bang!
Live Line Up
Woodburn
Ben Montague
Fiona Culley
+ More TBC.
DJs
Fish Don't Dance Djs (Mixmag / Get Loaded 09)
Dan McKie (1980 / Pacha / Dance4Life)
Lloyd Chapman (1980 / Pacha)
Max Bloom (Susu Records)
+ Special Guest TBC.
Doors Open at 9.00 pm
– Room One: Acoustic Live Music, Special Guest Dj Max Bloom (Susu Records)
– Room Two: VIP and Chill out room – with special guest Dj Ryan Casey
– Room Three: Rock Room and Club Lounge hosted by Fish Don't Dance.
Related Posts