Ibiza Opening Party @ The White House With Jonathan Ulysses
FREE DJ MIX DOWNLOAD
To download your free Mini-Mix from the forthcoming Ibiza Opening Party compilation mixed by Jonathan Ulysses simply join the Big In Ibiza mailing list and you will be emailed a download link… http://biginibiza.com/join-mailing-list/
IBIZA OPENING PARTY WITH JONATHAN ULYSSES @ THE WHITE HOUSE
Friday 7th May 2010
The White House, 65 Clapham Park Rd, SW4 7EH
Time: Doors open 7pm, tunes kick off 9pm and switch off 5am.
Entrance: £6 before 11pm, £8 after 11pm
Line Up:
Jonathan Ulysses (Space, Ibiza)
LiNAS & Young
So Called Scumbags
Room 2 hosted by Muzica:
Steve Westover
Twisted Sounds
Coxy
Tom Knight
Kowboy K
DRINKS & GUESTLIST DISCOUNTS
£2.50 for house beer, house wine or house spirit & mixer before 11pm
2 for 1 on selected cocktails before 11pm
Get in for only £5 on the Guestlist before 11pm!
For all guestlist and event enquiries please contact:
events@biginibiza.com
+44 (0) 2077207266
JONATHAN ULYSSES
One DJ's name is synonymous with Ibiza and that is, Space resident DJ, Jonathan Ulysses. Jonathan's career has spanned over 15 years, seeing him spend over 10 of them as Space resident. He is undeniably The King of the Terrace, with his high energy, up-tempo, driving, electronic, pumping house style sets becoming legendary and always rocking dancefloors
"The most deserving resident at Space" DJ Mag
"A bonafide first division house DJ" M8 Mag
To celebrate Jonathan's return to the White Isle and the beginning of the 2010 Ibiza season Big In Ibiza and Jonathan present the latest in their ever successful 'Ibiza Opening Party' mix series.
The iTunes chart topping compilation series has been running since Big In Ibiza first set up shop back in 2008 with Jonathan always selecting and mixing his biggest Ibiza anthems for the season ahead, and as one of Ibiza's longest running residents and a corner stone of the Island's club life Jonathan Ulysses knows his Ibiza records!
For this event, Jonathan will be spinning alongside LiNAS & Young and So Called Scumbags. Picked up by Big In Ibiza in early 2010 to spin at their events, LiNAS & Young have continuously impressed, going on to headline April's Big In Ibiza Miami After Party @ The White House. James Edwards & David Minns, aka So Called Scumbags, have spent the last year spinning at London's top venues including Fabric, Ministry Of Sound, SE1, The White House, Corsica Studios & The Egg as well as Ibiza Heat, Judgement Sundays and Ibiza Rocks on The White Isle. Their latest record – set to feature on Jonathan's Ibiza Opening Party compilation – is the duo's first release for Big In Ibiza and is sure to be one of the label's anthems for the summer, so who better to spin at the Big In Ibiza – Ibiza Opening Party.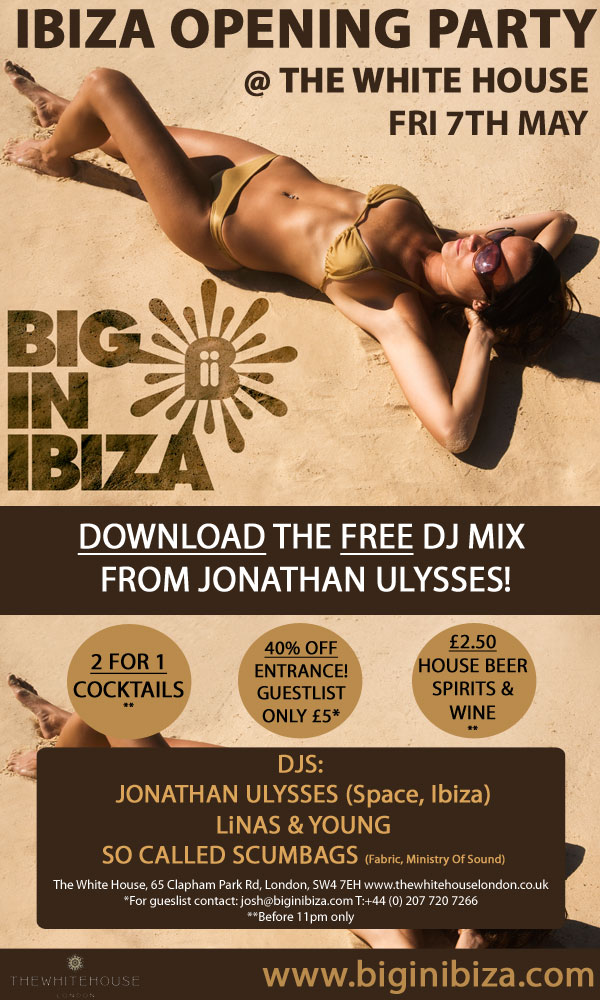 Related Posts