MC Chickaboo Exclusive Interview
MC Chickaboo, the award winning UK's number one female MC takes time out from promoting her massive new singles with The Str8jackets, "Move & Rock" to chat to us. Known for her huge collaborations with Timo Maas and Rennie Pilgrem, Chickaboo is now heading for an insane urban dance, hip-hop hybrid sound that is already causing havoc in the clubs and on the blogs due to the killer new single Move & Rock which is effortlessly crossing genres and smashing up all clubs from the legendary Space Terrace in Ibiza to the UK Funky floors of Twice As Nice and is already building into THE summer anthem!. (Full Biography)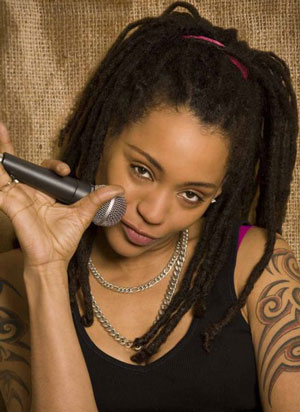 1. You have worked with an impressive selection of producers. How do you find them all and how did you meet up with Timo Maas, Rennie Pilgrem and now The Str8jackets?
They find me! I'm very lucky and have been around long enough that people know who I am and wanna work with me. It mostly happens by introductions by people who know us.
2. How did you get your name?
From my sisters doll, she had a doll that sucked it's thumb called "Cheekaboo" when 1st I started I had gigs but no MC name and so had to come up with one pretty quick. I wanted a name that was obviously a girls name, an so changed the "cheek" to "Chick" so no guys could rip me off . There were NO girls about at the time MC'ing.
3. Have you ever received strange gifts from fans?
Lol! I've been given various piercings removed from various places, In the US I've been given about a million 'raver bracelets' I've been offered sexual favours but don't think that counts as a 'gift'
4. What is the weirdest experience you've ever had on the mic?
Weirdest..Hard to remember but I've had a bomb scare in a club and had to announce 'could people please calmly make their way to the exits' I've also proposed on behalf of a shy guy too, she said yes!
5. What are you working on at the moment?
I'm workin with so many different styles of music right now, I'm having so much fun. It also challenges me to think of different melodies. Im currently workin on lots of new tracks. Some secret others not so…
6. Where do you get your inspiration for your lyrics? Specifically "Move & Rock".
Inspiration happens in an instant so it's hard to pin down what it is. Sometimes someone can say something to you that strikes a chord. With dance music I write about the music, dancing an feelings an experiences that happen in a clubbing situation. Or sex!
7. What do you do in your time off?
Time off is taken up with watching comedy TV or stand-ups (I like to laugh a lot) taking photos and relaxing. I travel most weekends so its nice to chill alone with some rum.
8. What would be your ultimate holiday?
Thai island beach, warm sea, nice food and sunshine/Back 2 Life in Antigua is Jazzie B's week long Caribbean excursion is my second bestest holiday/musical holiday
9. What would you say is your best trait?
I think my sense of humour isn't too bad…
10. Where is the best destination for dance music?
I couldn't tell u factually but I think London and the UK is still the worlds capital and most varied place in the world for music/clubbing
11. Has it ever all gone completely wrong?
Things always go wrong, it's the way of the world. The trick is to pretend that its all running smoothly so peeps don't notice. Put on a show an that's what peeps remember, not the problems (hopefully)
12. Who do you follow in the World Cup (apart from your home country)?
I support the underdog, always! Tho I like Ivory Coast's chances, and I defo do not want Portugal to win. Ronaldo has a punchable face!
13. What can we expect from you this summer season?
This summer will be sexy tunes, Str8jackets an Rennie Pilgrem an I have got some more tracks coming. DJ Flore's album that I'm also on is dropping soon too. I like to feel da summer groove and get that out in my vocals.
14. Where do you see dance music going the next year?
Erm? Well its getting back out there with the chart takeover from Dizzee etc, people always wanna dance an release stress so I think it will never die out. Just morph and grow into some other style for the kids to follow.
15. Tune of 2010 & most influential artist of 2010 so far?
Best tune: I honestly don't have one, tho Im looking forward to Quentin Harris's and Osunlade's new albums coming out. I like those guys!
16. Twitter or Facebook?
Twitter for the humour, Facebook for the sometimes useful contacts that can find you on it. The ol school friends finding you is alittle alarming at times.
17. What's your favourite gadget?
My I-Pod touch, love it!!
18. What is your most prized posession?
My home, It took ages to find it and its my own lil piece of paradise in London.
19. Favourite gig you have ever played?
I don't have a favourite as there's too many amazing moments. Southport Weekender having Angie Stone tell me I did well. MC'ing for Afrika Bambaataa, The O2 with Soul2Soul supporting Alicia Keys, RBMA wid Jazzie B, Dreamscape 5 w the late G.E. Real, supporting Cypress Hill, loads I can't get my head round right now…
20. Who are the best artists you've ever played with?
See above..too many (and im kinda done wid typing now) sorry! 😉
21. Cats or Dogs?
I prefer dogs but now have a lil kitten called Lil Dave so I like both, I think!
22. What tunes are on your playlist at the moment?
Too many tunes but some tracks by these artists are in my 'shower tunes' playlist: The Str8jackets, Creative Source, Roy Ayers, Frankie Knuckles, Digital, Micheal Jackson, Alexander O'Neal, DJ Flore and Osunlade
Download The Str8jackets ft MC Chickaboo – Move & Rock
Related Posts