The Str8jackets Exclusive Interview
The Str8jackets take time out from promoting their hotly anticipated new single with MC Chickaboo, "Move & Rock" (due for full release 2nd August) to chat to us at Big In Ibiza HQ. Made up of London based trio Mark Robinson (Peppermint Jam UK), Dave Longmore and Phil Fearon, The Str8jackets had their first major recognition courtesy of Pete Tong, playing their bootleg remix of the Black Eyed Peas' 'Boom Boom Pow' and then spinning their 'Whats it All About?' record twice on the Essential Selection. (Full Biography).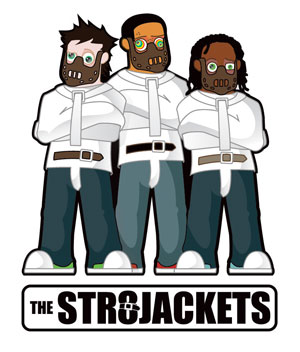 1. Do you guys really need Str8jackets? How insane are you?
We have the Str8jackets! We had to order them in especially from some crazy American website. (Dave) Mark had it bookmarked for some reason!
The craziest time is in the studio, as we like to say 'It's a sickness…'
2. Have you ever been physically restrained?
(Mark) My Mrs seemed to enjoy 'Testing' the Str8jacket on me and legging it!
3. You have worked with an impressive selection of vocalists. How do you find them all?
(Dave) Its just a case of having the right material, and the right connections.
(Mark) It really is great to work with such talented singers and writers. The best part is the recording sessions where we often just stand back in amazement at the quality of vocals.
4. How did you meet up with MC Chickaboo?
Boo was introduced to our camp a couple of years ago by our good friend DJ Femi B. Of course after her work with Timo Maas and Rennie Pilgrem it was fantastic to get such a great vocal to work with…
5. Have you ever received strange gifts from fans?
Rumour has it Phil has knickers thrown at him on stage quite often…
6. What is the weirdest experience you've ever had behind the decks?
(Mark) I don't know if I'd call it weird but for me I'd say it when I played in a remote town in India called Pune. The club was quite intimate but due to the heat they had loads of Air Conditioning units dotted around the ceiling. I was playing my set and really enjoying it when I started to get a weird feeling every time I touched the mixer… I looked around the booth and found the Air Conditioning unit above my head was leaking and the power supply for the decks was sitting in a puddle of water!!! Thank God for my rubber flip flops!!!
(Dave) For me, it's got to be playing a club in Barbados called The Ship Inn. I got to the decks, played one track, then all hell broke loose! The biggest brawl the club had ever seen! The stage started to move, and I was hanging on to the decks for dear life! The club got shut down for the night, quickest buck I ever made.
7. What are you working on at the moment?
We've been soooo busy! We've just put the finishing touches to collaborations with US Diva DAWN TALLMAN, Hip House Legend TYREE COOPER, 2 tracks with the Awesome KATHERINE ELLIS, a new project with the super soulful GARY BARDOUILLE along with new versions of 'Call it Fate' by Richie Dan and 'Belfast Kiss' by our good buddy Jay Kay. Also keep an eye out for a sneaky bootleg called 'When?' and of course our second single with Chickaboo!!!
8. How did all three of you meet?
I met the guys a couple of years back when I started managing Dave and Femi (Leggz & Femi B)… From there I started to get in the studio and the Str8jackets was formed!!!
9. What do you do in your time off?
Time off? What's that??? As I said before It's a Sickness!
10. What would be your ultimate holiday?
(Mark) Me and the Mrs on a Beach in Mauritius…
(Dave) Me and some one elses…… no, er, I mean circumnavigating the globe, stopping of every now and again, getting out the lappy, and producing a track……..ahhhh, to dream……..
11. What would you say is your best trait?
(Mark) For me its definitely determination. I'm probably getting a bit annoying always nagging labels and DJ's to get behind our music!
(Dave) I'd say the same, without it, you'll get nowhere in this business!
12. Is Ibiza still the home of dance music?
It's really become a focal point for developing not just music but also yourself as a production outfit and DJ. If your music is being played there you are definitely on the right track and DJing there is second to none.
13. Has it ever all gone completely wrong?
Of course not 😉 (cough, cough ,splutter)
14. Who do you follow in the World Cup (apart from your home country)?
(Mark) No-one in particular, however I love an underdog so will usually root for the minnows. And I got New Zealand and Mexico in a sweep so come on!!!
(Dave) Brrrraaaaaazil!
15. What can we expect from you this summer season?
Plenty of new music along with lots more DJ gigs. A live show, with all the artistes we work with, is definitely on the agenda, but it'll take a fare bit of planning!
16. Where do you see dance music going the next year?
The quirky sample based stuff seems to be making a comeback with Gramaphonedzie and Yolanda Be Cool breaking through with mad samples… Also the American mainstream is starting to take notice of dance music at last with David Guetta bringing the big acts in for collaborations…
17. Tune of 2010 & most influential artist of 2010 so far?
For me I'd say 'One' by the Swedish House Mafia simply due to it sounding so huge… In terms of influential artists for me its probably Chocolate Puma so far this year… I love their sound and they seem to always do something fresh while keeping the energy for peaktime club play.
18. Twitter or Facebook?
Facebook for us – But we're new to Twitter so who knows…
19. What's your favourite bit of kit?
In the studio I'd say the APC controller for Ableton as it really speeds things up in pre production… In the booth its gotta be the Pioneer EFX1000… Hours of Fun!!!
20. What is your most prized posession?
Probably my 15,000 Records (which is odd as I haven't played a record in years…)
21. Favourite gig you have ever played?
That's a toughie… Pacha Sharm El Shiekh and Attica Singapore are without doubt top 3 but the best ever has to be the 'We Love' Beach party at Oceans 27 in Bali… 5000 People on a beach going crazy… Amazing!
22. Cats or Dogs?
Both! Dave has a Husky/Akita cross called Mega while I have 2 Burmese Cats called Thelma & Louise!
23. What tunes are on your playlist at the moment?
ATFC is on track with 'Its Over', Riva Star is on fire with mixes on everything, Mark Knight's new 'Devil Walking' track is huge, HCCR 'Here comes that Sound' is massive too…
Download The Str8jackets ft MC Chickaboo – Move & Rock
MC Chickaboo, the award winning UK's number one female MC teams up with The Str8jackets following
collaborations with Timo Maas and Rennie Pilgrem for an insane Urban Dance, hip-hop hybrid sound that is
already causing havoc in the clubs and on the blogs due to the killer new single "Move & Rock". Effortlessly
crossing genres "Move & Rock" is smashing up all clubs from the legendary Space Terrace in Ibiza to the
UK Funky floors of Twice As Nice and is already building into THE summer anthem!
Related Posts