Mark Knight spins Lost Warrior
Toolroom head honcho Mark Knight drops Tim Andresen's hot new tune "Lost Warrior" on his Toolroom Knights Radio Show broadcast on the 23rd August 2010! Joining waves of support from the likes of DMS12, Ant Brookes and Flash Brothers.
Download from Beatport:
https://www.beatport.com/en-US/html/content/release/detail/270473/Lost%20Warrior
DMS12 "Great Track"
Ant Brooks "Loving this one mate – Will be supporting the original! :)"
Nino Anthony "Lovin this groove! Wicked beats for sure. Full support."
Mark Kavanagh (Irish Daily Star/Pulse FM/Spin FM) 7/10 "Loving the Cut and Splice remix"
Dumb Dan "I really like the original! thanks for sending"
Flash Brothers "Cut & Splice Remix really works for us, good uplifting tech house!"
Graham Sahara "Thanks for this one. The Original is the one for me on this release."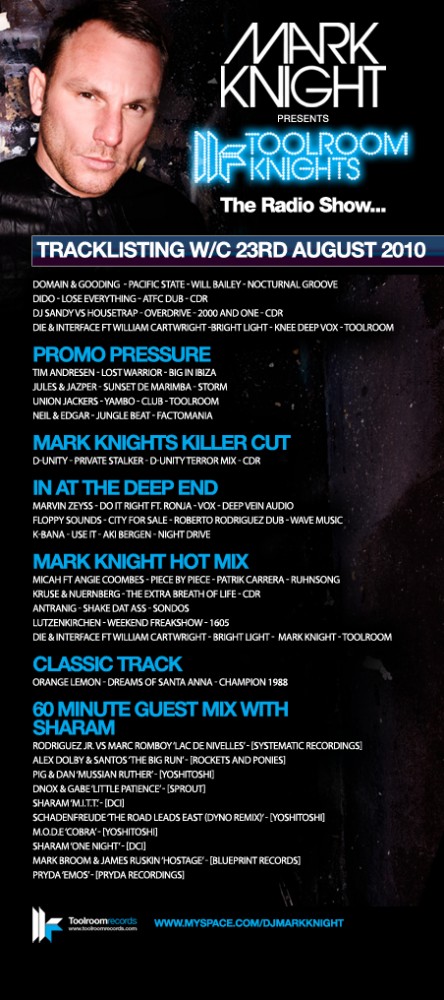 TIM ANDRESEN – LOST WARRIOR
The most influential man in Danish house music, Tim Andresen returns with his massive follow up to his first release on Big In Ibiza, "Do Your Thang", with the new track "Lost Warrior".
Download from Beatport:
https://www.beatport.com/en-US/html/content/release/detail/270473/Lost%20Warrior
This release features a rhythmic African drumming beat carried across a bouncing house groove fighting with the cries of the lost warrior. With the remix courtesy of Big In Ibiza in-house producer Cut & Splice, the second track adds bigger drops and more electricity to slide in a bassline that Bodyrox would be proud of.
As part of Professional Losers, leading international DJ, producer, remixer, promoter and head of "What Happens", his own label and event, Tim Andresen has had releases signed to Norman Cook's Southern Fried label, Mark Knight's Toolroom, Azuli, Fragile, Distinctive and Suesse and many more. His productions have gained huge support from the likes of Pete Tong, Erick Morillo, Deep Dish, Hernan Cattaneo, Nic Fanciulli and Fatboy Slim.
Cut & Splice exploded onto the house scene a year ago after earning the illustrious position of in-house producer/engineer for Media Records with a residency for Big In Ibiza at The White House in Clapham, London. He has created a wave of productions remixed for the likes of Jonathan Ulysses (Space), Rachel Barton, Chris MiMo and Love Assassins to name a few and has found huge support from the likes of Robbie Rivera, K Klass, Sander Kleinenberg, Dubfire, Kissy Sell Out, Pete Tong, Riva Starr and more!
Track Listing
1) Lost Warrior (Original Mix)
2) Lost Warrior (Cut & Splice Remix)
Related Posts