Rachel Barton on Rob Da Bank (BBC Radio 1)
Rob Da Bank, standing in this week for Annie Nightingale on her weekly breaks show decided to drop Rachel Barton's Who Knows in the mix to shake things up a bit. Following on from plays on Kissy Sell Out (Radio 1), Andi Durrant (Galaxy FM) and Andy Mac (Cream – Radio City), as well as massive support from the Twitter community (@anniemacdj, @rivastarr, @heavyfeet and more!) it looks like Who Knows will be one of the hits of late 2009!
Who Knows is OUT NOW exclusively to Beatport, click here to download
To follow Rachel on Twitter click here!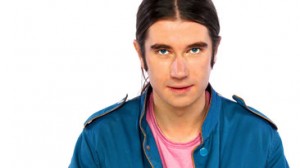 Running order
1. Micky Slim — Skank Out (feat. Nom De Strip) Bombsquad
2. Jammer — Party Animal Big Dada
3. Attaca Pessante — Make It Funky (Shy FX) Digital Soundboy
4. Gaiser — Bakyard Minus
5. Tom Stephen — Turn That S*** Up (Marco Del Horno Mix) Southern Fried
6. Instra:mental — No Future (Skream Mix) Non Plus
7. Chrissy Murderbot — Thighs (Shinra Mix) Wide
8. Zodiac Cartel — Stay On Top UAndA
9. Rachel Barton — Who Knows
10. Jabberjaw — A Goat On Fire In The Garden of Eden Spectral Sound
11. The Streets The Streets — Blinded By The Light (Nero Mix) Locked On
12. Parker — Where's My Money White
13. Simian Mobile Disco Simian Mobile Disco — Cruel Intentions (Joker Remix) Wichita
14. DJ Deekline & Red Polo — Give Me A Piece Of That Booty
15. DJ Zinc DJ Zinc — Wile Out (feat Ms Dynamite) White
16. Moguai — Lyve Mau5trap
Tonka in the Mix
1. Mix Intro
2. Coburn — We Re-Interrupt This Programme (Tonka Remix)
3. Tonka — Jack Track
4. DJ Tonka — Jack Track (Audiofun Remix)
5. DJ Tonka — Jack Track (Black Noise Remix)
6. Aquasky –You Know We Do It Big Girl (Tonka Remix)()
7. Laidback Luke — Blau (feat. Lee Mortimer) (LA Riots Mix)
8. Laidback Luke — My GOD (SonicC Remix)
9. Hot Pink Delorean & Fantastadon — Party Favour
10. Black Noise — Knock You Out (Andy George Remix)
11. SonicC — Stickin'
12. SonicC — Stickin' (Digital Lab Remix)
13. AudioFun — Dirty Gold (Tonka Remix)
14. Sam Timba — Barbie Weed
15. Major Lazer Major Lazer — Keep It Goin' Louder (feat. Nina Sky And Ricky Blaze) (So Shifty 1961 Ska Remix)
16. Excision And Datsik — Swagga
17. Nneka — Heartbeat (Chase And Status We Just Bought A Guitar Mix)
18. Disas Zt — Together (DC Breaks Mix)
19. Freeland — Do You (High Rankin Mix)
20. Annie Annie — My Love Is Better (Justin Robertson Mix)
Smalltown Supersound
Related Posts