Twist & Shout – Indie Vs Dance ft The Libertines Gary Powell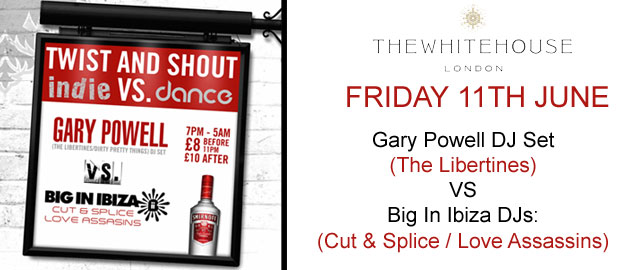 Twist & Shout – Indie Vs Dance
@ The White House, London – 65 Clapham Park Rd, SW4 7EH
Date: June 11th 2010 / Time: Doors open 7pm, tunes kick off 9pm and switch off 5am.
Entrance: Tickets, £7 – Concessions Guestlist, £5 – £8 on the door before 11pm, £10 after
Line Up:
Gary Powell DJ Set (The Libertines / Dirty Pretty Things)
VS
Big In Ibiza DJs:
– Cut & Splice
– Love Assassins
Room 2: Big In Ibiza DJs
Offers & Drinks Discounts:
Free Moscow Mule for every entrance with a ticket before 11pm
£2.50 for house beer, house wine or house spirit & mixer before 11pm
2 for 1 on selected cocktails before 11pm
—
Smirnoff believe that everyone should have extraordinary experiences, the kind you look back on and say "I was there". On June 11th 2010 every clubber, every nightlife enthusiast and every music fan who comes to The White House and witnesses the one off Indie Vs Dance event will be able to say exactly that…
That they were there for the night when one of Indie music's finest span his favourite records in a competition between the biggest Indie songs and the best Dance anthems.
Headlining the event is Gary Powell of the recently reformed Libertines, the Dirty Pretty Things and new band, The Invasion Of. As a drummer for these bands, members of which also include frontmen such as Pete Doherty and having toured with acts such as the New York Dolls, Gary has become an Indie icon.
Spinning back 2 back with Gary Powell over the night will be Big In Ibiza DJs Cut & Splice and Love Assassins. Both leading Big In Ibiza residents the pair have continuously proved themselves on the dancefloor.
Cut & Splice's mash-ups and bootlegs have become renowned for getting the crowd rocking and with the event providing him a unique opportunity to mash-up Indie's best with Dance music's finest in his records as well as in his back 2 back mixes with Gary, expect there to be some more mischievous and innovative music coming from his sets.
So, to be able to look back and say "I was there", simply Bii there on the night with Big In Ibiza and Smirnoff at South London's leading and award winning venue, The White House.
Related Posts