Big In Ibiza – House Mash Up
House Mash Up Mix is a completely unique double CD album featuring over 65 dance tracks from the past two decades. Mixed and mashed by Cut & Splice, the compilation brings together upfront club records and old skool anthems, cut up, spliced and mashed together over two seamless, hour long DJ mixes.
Buy now exclusive to iTunes (2 Mash Up Mixes and 58 Tracks) – Click Here!
Having recently blown away clubbers at our latest Big In Ibiza event, Cut & Splice's bootleg sets are an obvious winner with dance music fans, providing them with a fresh take on their favourite records. With the album encapsulating everything Cut & Splice's live show is about, they have selected a few of the biggest tracks in their record box. Mixing club smashes from Tom Neville's "Just Fuck" to Danielle Papini "Church Of Nonsense" and Deepgroove "Jus Luv Bass", with dance classics from Mauro Picotto, CRW and Howard Jones.
Opening with a bootlegged up version of The Wideboys, Fonzerelli, 49ers and Chocolate Party, Cut & Splice immediately set the tone for the rest of the compilation which also includes top 20 records from the likes of Clock and Cappella, as well as music from legends such as Tito Puente Jnr's "Oye Como Va".. This summer saw Fonzerelli's "Dreamin' (Of A Hot Summers Night)" gain support from the worlds biggest DJs as well as from Radio 1, Kiss FM, playlisting on Ministry Of Sound Radio and Gaydar, and video plays on Flaunt, The Chart Show, and MTV Dance. For this mix Cut & Splice have mashed this together with Neon Light's "Get Down Everybody" and two massive underground anthems in Filthy Rich's "It's Like That" and Picotto Vs Papini "Gonna Get Ya" – a bootleg in it's own right mixing together Mauro Picotto's huge dance anthem and top 15 UK charting "Lizard" with Danielle Papini's Ibiza anthem "Church Of Nonsense".
Other notable bootlegs and mashes come in the form of CRW's Ibiza classic "I Feel Love" and Lance Ellington's 90's single "Lonely" as well Ibiza Knights "(Feels So) Good To Be Alive" and Mohito Ft. Howard Jones Galaxy and Vibe FM playlisted "Slip Away".

This is the start of what is sure to be a long and exciting career for Cut & Splice whose unique live sets and bootlegs provide something for everyone, from your cheesiest student union right through to the most cutting edge new genres. We definitely put them down as ones to watch out for in 2010!
Tracklisting Mix 1:
1. Connected ft Max'C – A Feeling (Wideboys Miami Dub/Acappella)
+ Fonzerelli – I Love Music (Acappella)
+ 49ers feat. Ann-Marie Smith – Rockin' My Body (Acappella)
+ Chocolate Party – WIKID (Acappella)
2. Love Assassins – The Boy Is Mine (Soulshakerz Dub)
+ Miami Dub Machine – Be Free With Your Love (Acappella)
+ Chocolate Party – We Don't Have To Take Our Clothes Off (Acappella)
3. Ibiza Knights – (Feels So) Good To Be Alive (Terrace Dub)
+ Mohito feat. Howard Jones – Slip Away (Acappella)
+ Clock – Everybody (Acappella)
4. Fonzerelli – Moonlight Party
+ Yer Man – Weird Therapy (Acappella)
+ DJ Foe – You Got The Love (Acappella)
+ Cappella – U Got 2 Let The Music (Acappella)
5. CRW – I Feel Love (Aaron McClelland Remix)
+ Lance Ellington – Lonely (Acapella)
6. Mauro Picotto – Evribadi (Fonzerelli Dub)
+ Collapse – Hold Me In Your Arms (Acappella)
+ Tarantino – Pulp Fiction (Acappella)
7. Mandy Reid presents Disco Construction – Bring It Back Round Again
+ Sharada House Gang – Dancing Through The Night (Acappella)
+ Charlotte Narni – Fucking With The DJ (Acappella)
+ Tom Neville – Just Fuck
8. Vee Scott – Gimme Your Love (Oliver Lang and Sandro Remix/Dub)
+ 49ers feat. Ann-Marie Smith – Move Your Feet (Acappella)
9. Doktor Pressure – Enjoy The Silence (Christian Hoff Dub)
+ Chocolate Party – Pump It Up (Acappella)
+ Cracked Logic – We Dare The Radio Stations To Playlist Our Record, They Say It's Noisy, We Say They're Lazy (Acappella)
+ Cappella – U Got 2 Know
10. Filthy Rich – Music Is Movin' (Instrumental Dub/Acappella)
+ Cappella – Turn It Up & Down (Acappella)
+ Brazen – What's Love Got To Do With It (Acappella)
11. Fonzerelli – Dreamin' (Instrumental/Robbie Rivera Juicy Ibiza Mix)
+ Filthy Rich – It's Like That (Original Mix)
+ Neon Light – Get Down Everybody (Rap Acappella)
+ Picotto vs. Papini – Gonna Get Ya (Acappella)
12. Dan McKie presents Sparta feat. Emma J – Tears (Instrumental)
+ The Mitchell Project vs Ibiza Knights – Alive (Acappella)
+ Clock – It's Over (Acappella)

Tracklisting Mix 2:
1. Mauro Picotto – Maybe, Maybe Not (Original Mix/Megamind Mix)
+ Ibiza Knights – (Feels So) Good To Be Alive (Acappella)
+ Sharada House Gang – Keep It Up (Acappella)
2. Daniele Papini – Church Of Nonsense
+ Yer Man – Good Grief
3. The Angry Kids vs. Bob Marley – Mr Brown (Genetik & Gio Martinez Dub)
+ Love Assassins – Teardrops (Acappella)
+ Mauro Picotto – Iguana (Acappella)
4. Tom Neville – Just Fuck (Instrumental)
+ Tito Puente Jnr. – Oye Como Va (Acappella)
5. Chocolate Party – WIKID (Mark Mendes Vocal Dub)
+ Jenny Jones – Sexy Body (Acappella)
6. Deepgroove – Jus Luv Bass (Yer Man Remix)
+ Fargetta & Ann-Marie Smith – Music (Acappella)
7. Joshkovsky – 40 Miles (Original Mix/Instrumental)
+ The Angry Kids vs. Bob Marley – Mr. Brown (Acappella)
8. Jay Knerick – Rock The Dancefloor
+ Vee Scott – Gimme Your Love (Acappella)
9. Kelevra & Andy BopH – Chain Reaction
+ Yer Man – Satisfy Me (Acappella)
+ Love Assassins – Ain't No Love, Ain't No Use (Acappella)
+ Jonathan Ulysses – What You Gonna Do? (Acappella)
10. Chocolate Party – Sex (Christian Hoff & Scott Cooper Remix)
+ Organ Donors – 4 Tribes (Wanna Be Startin' Something) (Acappella)
+ Yer Man – Satisfy Me (Acappella)
11. Ibiza Knights – Breathless (Tech Mix)
+ 49ers ft Ann-Marie Smith – Let The Sunshine In (Acappella)
12. Jonathan Ulysees & Peter Brown – Be Free (Vocal Mix/Dub)
+ Connected ft Max'C – A Feeling (Fonzerelli Remix)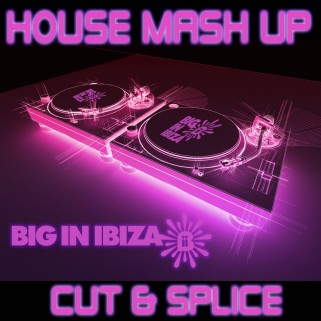 Related Posts