BIG ROOM TUNES FUTURE CLASSICS 2010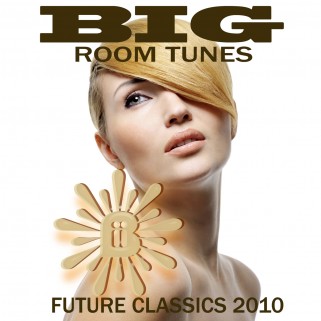 Big Room Tunes 2010 – 2 CDs of upfront Big In Ibiza Anthems & Future Classics including music from:
Fonzerelli (Ministry Of Sound/Ultra)
Filthy Rich (Toolroom/Floorplay/Big Love)
Jonathan Ulysses (Space, Ibiza)
Matt Smallwood (Toolroom/Cr2/Armada)
Rachel Barton (Filth/Annie Mac Tour)
Chris MiMo (Cr2/Seamless)
Charlotte Narni (Narni Shakers)
Aimed at showcasing the best new music from the label's biggest acts as well as the best up & coming artists, Big Room Tunes 2010 includes 20 exclusive records and remixes. From the Robbie Rivera Juicy Ibiza Afterhours mix of Fonzerelli's huge "Dreamin'" to Filthy Rich's dance chart topping "Music Is Moving", this album is compiled of some of Dance music's best House music.
Rachel Barton's debut releases "Who Knows" and "Giggle" have gone on to receive support from the coolest names in House, including Groove Armada, Mark Knight, Riva Starr, Style Of Eye and Pete Tong on BBC Radio 1. While Dominatorz shot directly to the heights of the Cool Cuts and DMC Buzz Charts off early promos alone and it's success is sure to continue snowballing over forthcoming months.
Following his records being signed to Toolroom, Cr2, Armada and Spinning, Matt Smallwood's debut solo single – cunningly entitled "Debut" – is another of the ones to watch, while Cut & Splice present their incredible "Gotta Be Big". Cut & Splice's second single on the album, "A Tad Bendy" shows why the Electro Tech sound has become so prominent in clubs around the world over recent months, with their unique Bootleg / Mash Up DJ sets also sparking an interest from the clubbing community.
Chris MiMo has consistently confirmed his place as one to watch, with his records gaining support from the likes of Dubfire, David Guetta and Erick Morillo. His MiMo event has also hosted events this year including their 3rd Birthday @ Ministry Of Sound with their Dubai residency starting in January 2010 alongside their Ibiza and UK residencies.
As one of Space's longest running Ibiza residents Jonathan Ulysses has once again spent his year traveling the world and his record, made alongside studio partner and Pacha DJ Peter Brown, has received support from his White Isle summer home to the most remote clubs around the world.
Tracklisting:
1            Filthy Rich – Music Is Moving (Love Assassins Mix)
2            Chris MiMo – Sexy Lady Dance (Original Mix)
3            Love Asssassins – Drinking In LA (Big In Ibiza Instrumental Dub)
4            Joshkovsky – 40 Miles (Original Dub)
5            Charlotte Narni – F**king with the DJ (Cut & Splice Dub)
6            Chris MiMo – That Soup Track (Big In Ibiza Mix)
7            Dominatorz – Why Can't We Live Together (Damian Wilson & Darren Crook Remix)
8            Cut & Splice – Gotta Be Big (Dub)
9            Cut & Splice – A Tad Bendy (Dub)
10 Pedro De La Fiesta – Way In Way Out (Filthy Louca Remix)
1             Chill De Vision – Timbuktu (Filthy Louca Remix)
2            Lance Ellington – Lonely (Have We Lost Our Love) (Big In Ibiza Tribal Dub)
3            Fonzerelli – Moonlight Party (Minimal Groovy Mix)
4            Ibiza Knights – (Feels So) Good To Be Alive (Big In Ibiza Mix)
5            Rachel Barton – Who Knows (Camel Remix)
6            Fonzerelli – Dreamin' (Robbie Rivera Juicy Ibiza Afterhours Dub)
7            Rachel Barton – Giggle (Yankee Zulu Remix)
8            Jonathan Ulysses  & Peter Brown – Time (Massimo Santucci Remix)
9            Matt Smallwood – Debut
10         Joshkovsky – Latin Lover
Available to Download at Beatport
Available to Download at Track it Down
Available to Download at Itunes
Related Posts