Dominatorz – Why Can't We Live Together? – All Mixes Out Now!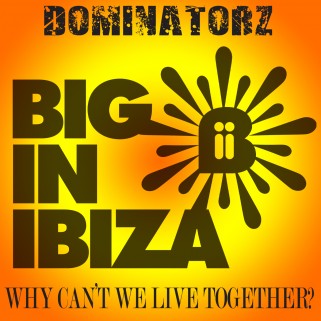 'Why Can't We Live Together' stormed in at # 10 in the Cool Cuts Chart from only a handful of Tastemakers and gained early support from the likes of the legendary Danny Rampling. Dominatorz return with their twist on the Timmy Thomas classic seventies anthem spreading their message of harmony, goodwill to all men and wicked dancefloor beats. With remixes from Damian Wilson & Darren Crook, Big In Ibiza, Urban Soul Selective and RMS, this track has been an esstential tune for any dancefloor!
Download Now From
iTunes
Trackitdown
Beatport
Amazon MP3
Juno Download
DJ Download
DJ Tunes
Audiojelly
Dance Music Hub
Following up from their monsterous debut single, "Do You Love Me" on Loaded Records which hit #2 in the Upfront Club Chart as well as a # 1 in Cool Cuts with huge radio support from Pete Tong, Zane Lowe, Eddie Halliwell, Scott Mills, Dave Pearce, Steve Smart, MTV Dance, Chart Show TV, Flaunt, Clubland TV, The Box, and more. Dominatorz (aka King of the Big Ups & Loggi) are looking to smash dancefloors worldwide with their 2nd single "Why Can't We Live Together".
Starting at the beginning of the scene Dominatorz released tracks on legendary labels 'Shut Up And Dance', 'Addis Ababa', 'Kickin' and 'Great Asset Records' to name but a few.
Tracks included 'blue sky day' which was an early 'Kiss Classic' and featured on the gold selling albums 'Rave Generation' and 'Rave Anthems'. Other tracks such as 'Waterfalls' and 'It's My Life' had great support after being championed by the iconic DJ Grooverider.
This is Dominatorz back for 2010.
DJ Feedback:
Danny Rampling 'The mix you guys have done (Damian Wilson & Darren Crook) is delightful I will play this we need more trax with a message in again well done!
Spencer Parker (Rekids / Buzzin Fly / Cr2) 'Dominatorz remix is dope !!!!! Good work sir !!!
Drum & Bass Arena: Sick track mate! Really good production for a deep D&B track. Really liking the use of the vocal as well, especially the way it changes as b-line pattern changes to accommodate!
Sharp Boys: Loving this.What a great record to update and release! (I remember the original with much delight so its great to hear it again (George) ). Great pack of mixes too with Damien Wilson & Darren Crooks , the Midnight Ravers and the Main Mix all getting the initial thumbs up from us.
John Jones (Hed Kandi / Stereo Sushi / Cinco Management) Support on Damo & Darrens mix. Good work!
Nilesh Parmar (Static Shokx / Bass Slammers) Like this, I will be playing the Midnight Ravers Remix. This mix is nice a punchy for my MOS Clubbers Guide Electro Tours
Oliver Lang Love the damian wilson and darren crook mix,nice track
Related Posts