Filthy Rich 'Music is Moving'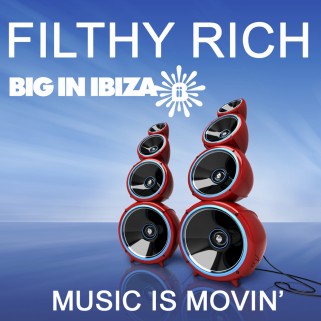 # 1 on DJ Download and Trackitdown for 2 weeks! Now with hot new Love Assassins & Drum n Bass Remixes. With massive support coming from Gareth Wyn, Jason Herd, Thomas Gold, Jon Fitz, Nino Anthony, DJ Paulette, Jorge Navarro and more.
When most people thought 'Filthy Rich' was just a term used to describe millionaire yacht club members rather than (according to Tim Sheridan) "the most promising DJ and producer of the new generation", Big In Ibiza scooped up two of Rich's earliest productions, "Dirty Freak" and "It's Like That". Both tracks instantly became worldwide club anthems supported by the likes of Fergie, Annie Mac, Robbie Rivera, Plump DJs, Sonny Wharton, Deepgroove and Seamus Haji establishing Rich's position as one of the World's hottest producers and DJs.
"Talented and innovative behind the decks, relentless in the studio, and with a head on his shoulders that belies his years [Filthy Rich] is definitely one to watch in the near future"
(M8 Magazine)
Therefore, it feels like providence that brings Filthy Rich and Big In Ibiza back together for one of his biggest tracks to date, "Music Is Moving" which samples Ann-Marie Smith's timeless vocal and the classic riff by Fargetta from their 1992 anthem. Joining Red Jerry, Tall Paul, Tony De Vit, BK and others, Filthy Rich takes his turn to bring this absolute classic dance anthem up to date in his own unique style. Playing music that he loves, for people to dance to Rich flies between everything from sleazy tech-house, to dirty minimal, to irresistible electro with an old classic thrown in which has earned Rich prestigious residencies at the international Kissdafunk, the glamorous Hat Club to the dark and dirty Very Very Wrong Indeed with bi-monthly dates at Ministry of Sound!
"This distinctive vocal is driven into the realms of warehouse by a certain Filthy Richard. […]
This will work and it probably already has!" (I-DJ July 09)
There are no rules and the future is FILTHY.
Support:
Jason Herd (aka Juan Kidd) "Been playing this for a while off Rich, Goes Off!"
Thomas Gold "Like it, def support on this!!
Jon Fitz "Lovin this track, loved the orig, this still rocks. Great work"
Nino Anthony (Portamento Records): SIIIIIIIIIIIICK package!!!! All the mixes are ace and top notch.
DJ Paulette(RADIO FG / MIX CLUB) "There's nothing wrong with a little commercial crossover entertainment when the results are as well arranged and conceived as this."
Jorge Navarro: Playing the song full support in my sets.
Available to Download at Track it Down
Available to Download at DJ Download
Available to Download at Juno
Available to Download at Beatport
Available to Download at Itunes
Related Posts