Filthy Rich Number one in trackitdown charts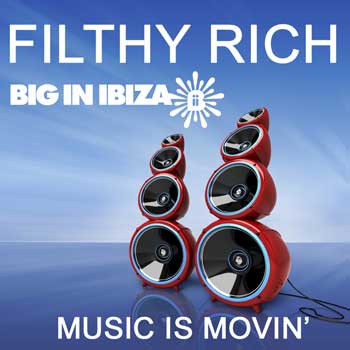 Double trouble for Filthy Rich as one of his biggest tracks to date "Music Is Moving", sampling Ann-Marie Smith's timeless vocal and the classic riff by Fargetta from their 1992 anthem hits # 1 on DJ Download and Trackitdown and is currently rising up Beatport's house chart. Playing music that he loves, for people to dance to Rich flies between everything from sleazy tech-house, to dirty minimal, to irresistible electro with an old classic thrown in. Big In Ibiza on remix duties supply the deep, grooving sound of the terrace.
Download from Trackitdown or DJ Download.
Feedback:
I-DJ July 09 "This will work and it probably already has!"
ID-J August 09 "Will sound good on a podium whilst in an altered state. Hands in the air y'all"
Jason Herd (aka Juan Kidd) "Been playing this for a while off Rich, Goes Off!"
Thomas Gold "Like it, def support on this!!
Jon Fitz "Lovin this track, loved the orig, this still rocks. Great work"
Nino Anthony (Portamento Records): SIIIIIIIIIIIICK package!!!! All the mixes are ace and top notch.
DJ Paulette (RADIO FG / MIX CLUB) "There's nothing wrong with a little commercial crossover entertainment when the results are as well arranged and conceived as this."
Jorge Navarro: Playing the song full support in my sets.
1. Filthy Rich – Music Is Moving – Original Mix (Big In Ibiza)
2. Jayvin Mena – Monthra – Bart B More Secured Remix (Secure Recordings)
3. Disfunktion – Overdrive – Filthy Rich Remix (Audiodamage)
4. Jay Lumen & Cosmophunk – Yes – Matteo Dimarr Remix (Dataworx Digital)
5. Filthy Rich – Rubber Ball – Original Mix (Stealth)
6. Gui Boratto – No Turning Back – David Tort Mansion Remix (Mansion Recordings)
7. My Digital Enemy – Cuba – Filthy Rich's Puff Puff Give Remix (Used and Abused Music)
8. Kim Fai – Good Life – Original Mix (Size Records)
9. Prok & Fitch – Unleashed – Original Mix (Control Freq Records)
10. Umek – You Might Hear Nothing – Dataworx Remix (Dataworx Digital)
1. Filthy Rich – Music Is Moving (Original Mix) [Big In Ibiza]
2. Mark Knight & Funkagenda – Flaute Magica (Original Mix) [Toolroom]
3. Filthy Rich – Luvstruck (Original Mix) [Floorplay]
4. Lissat & Voltaxx – Sunrise Over Mali (D Nox & Beckers Remix) [LOTNS]
5. Steve Lawler & Alex Tepper – Flexwood (Original Mix) [Souvenir]
6. Jordy Lishious – Flapneck (Original Mix) [Black Bird]
7. Io – Jeton (Original Mix) [Diynamic]
8. Thomas Gold – In Your Face (Abel Ramos Munich Love Remix) [Nero]
9. Filthy Rich & Jorgensen – Vacant (Original Mix) [BDR Music]
10. Prok & Fitch – Unleashed (Original Mix) [Control Freq]
Related Posts