Future: Dubstep:02 Mixed by Bare Noize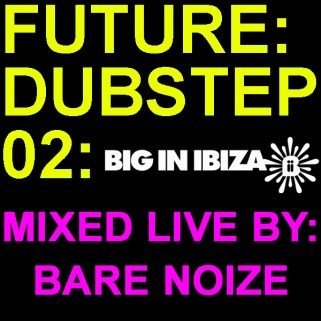 The buzz word of 2008 and early 2009, Dubstep is the bass heavy, half-time genre that has taken the world by storm. The scene's top DJs and artists have enjoyed worldwide success for a while now, but with the expansion of Dubstep into wider Dance – such as it's prominence in Ibiza this season – Dubstep is sure to continue growing beyond what could have ever been imagined at the start.
Following on from Big In Ibiza and leading Dubstep label Eight:FX's live mix compilation, Future:Dubstep:01, mixed by the Dubstep scene's original DJ, Kiss 100's Hatcha, the two labels now team up again to present Future:Dubstep:02, mixed live by Bare Noize.
In comparison to Hatcha, Bare Noize are Dubstep's newest stars. Originally hailing from London, they shot to prominence with their debut release earlier this year, Make Some F*cking Noize, which launched straight to the top of genre charts and remained there for weeks. Following this Bare Noize began to receive support from outside of the Dubstep scene (including from The Cut Up Boys on their Mash Up Mix 2009 compilation [Ministry Of Sound]) and were swiftly elevated through the Dubstep ranks, now DJing all over the UK, and remixing for various artists.
Versatile by nature, the boyz (James Dent and Daniel Brown) like to keep an open mind when in the studio and have developed a sound that falls into multiple categories, providing a unique and energetic vibe.
Future:Dubstep:01 showcased where the Dubstep sound is heading, and as is the aim with the Future:Dubstep series, this mix continues to do the same. While also featuring tracks from heavyweights such as Hatcha, Cyrus (Random Trio) and Kromestar, the mix also showcases music from the scenes best up and comers, namely Bare Noize themselves, Aeroplane Dope (whose debut LP has just been released) Lost (recenty signed exclusively to Jakes' H.E.N.C.H label) , RMS, Dubkinetik, Mind and Trimaxis.
To coincide with this mix Eight:FX will also be releasing a series of Future:Dubstep 12" vinyls. As Hatcha and Bare Noize mixed the first two in the series of live mixes, the first 12" features tracks from each of them (along with Hatcha's studio partner Lost). The second vinyl will be released to coincide with Future:Dubstep:03 and features tracks from MRK1 (of Virus Syndicate) and Cyrus.
Tracklisting – Future:Dubstep:02
1. Aeroplane Dope – Quality Street
2. Bare Noize – Make Some Fucking Noize
3. Grimejah – Alarm
4. Hatcha Vs Lost – Class A
5. Bare Noize – Amazon
6. Hatcha Vs Kromestar – 1919
7. Cyrus – Pollen
8. Decipher Manana – Nothing Ventured (Deep Thought Mix)
9. Dubkinetik – The Rush
10. Bare Noize – Planet Earth
11. Hatcha Vs Lost – Tag Along
12. RMS – Nobody Knows
13. Bare Noize – Rhythm & Blues
14. Soi – Umpuajir
15. Trimaxis – Doomchore
16. Bare Noize – Can't Help Me
17. Mind – Cocktails & Coke!!
Tracklisting – Future:Dubstep
A1: Hatcha Vs Lost – Class A
A2: Hatcha Vs Lost – Tag Along
B1: Bare Noize – Planet Earth
B2: Bare Noize – Amazon
Download Available from Track it Down
Download Available from DJ Download
Download Available from Juno
Download Available from Beatport
Download Available from Itunes
Related Posts