Ibiza Opening Party 2010 (Album) Mixed By Jonathan Ulysses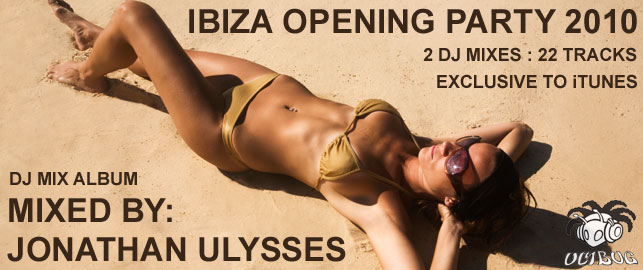 No man personifies Ibiza more than Jonathan Ulysses and his sets as resident at the legendary club, Space have earned him the coveted title of 'King of the Terrace'. He is the people's favourite and guaranteed to get any club rocking with his unique brand of high energy, driving, pumping house music with soul.
"The most deserving resident at Space" DJ Mag
During his epic 15 year career including over a decade as resident at Space, Jonathan Ulysses has always put the people first giving them exactly what they need at every turn and has built up a huge following of supporters who come to him for a good time.
To celebrate his return to the White Isle, Mr Ulybug expertly mixes 22 tracks including 10 Exclusives across 2 DJ Mixes and as one of Ibiza's longest running residents and a corner stone of the Island's club life Jonathan Ulysses doesn't put a foot wrong.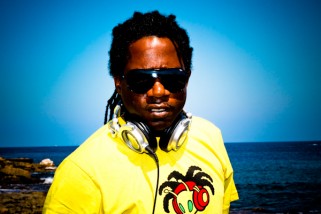 Ibiza Opening Party 2010: Mixed by Jonathan Ulysses

Mix 1
1) Nathan C & Danny Dove – Something Goin' On (Big In Ibiza Mix)
2) JoBabe – (You Are My) All and All
3) Brockman & Basti M – Sweet Sexy House Music (Till West & Ben Delay Remix)
4) Jonathan Ulysses & Reza – Baila
5) JoBabe vs Love Assassins – Sing It Back (Love Assassins Mix)
6) The Str8jackets ft MC Chickaboo – Move & Rock (Original Mix)
7) Jonathan Ulysses & Steve Haines Brazillia (Remix)
8) Peter Brown – Vermella
9) Peter Brown & Jonathan Ulysses – No Friends (Steve Haines Vocal Mix)
10) Dan McKie & Phil England ft Max'C – What Goes Around (Dezza Mix)
11) Phil Crawf – Deadbeat (Big In Ibiza Mix)
12) Chris Bekker ft Torita – Upgrade (Steven Redant & Lenz Garcia Mix)
Mix 2
1) Jonathan Ulysses & Steve Haines – Brazillia (Original Mix)
2) Tim Andresen – Lost Warrior
3) Matt Smallwood – Debut
4) So Called Scumbags ft Sam Shotaka – The Morning Session
5) Fonzerelli – Moonlight Party (Big In Ibiza Mix)
6) Love Assassins – Drinking In LA (Big In Ibiza Mix)
7) Cut & Splice – Old Skool Nu Skool Vol 1
8) Dominatorz – Why Can't We Live Together (Big In Ibiza Mix)
9) Filthy Rich – Music Is Moving (Love Assassins Mix)
10) Nv & Noy – Moscow Calling (Big In Ibiza Remix)
Related Posts